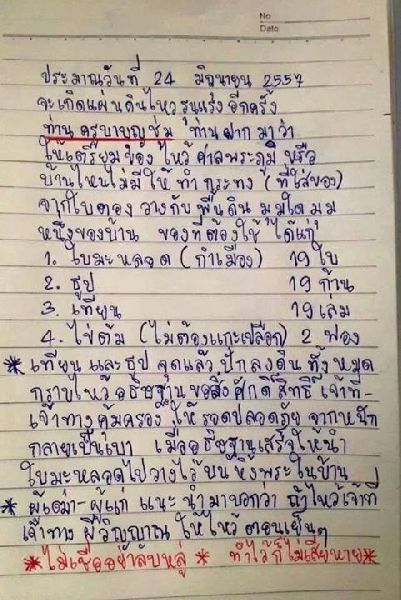 CHIANG RAI — Over 500 people participated in a mass Buddhist prayer ceremony in Chiang Rai province to ward off widespread rumours that yet another earthquake will hit the northern region this week.
Several hundred people joined the mass chanting of Buddhist incantations, led by 199 monks in the province's ecclesiastic college yesterday. The academy's rector, Phra Rattanamunee, chaired ceremony.
Phra Rattanamunee said the two hour prayer session was held to prevent a repeat of the 6.0 magnitude earthquake that struck Chiang Rai on 5 May.
"The prayers will cause blessing and peace, and prevent all kinds of calamity," said Phra Rattanamunee.
Last month's earthquake, which was the strongest quake in years, killed one person and damaged hundreds of homes, historic sites, temples, schools, and hospitals.
According to rumor, a hermit in the mountains of Chiang Mai has predicted that another earthquake which will strike the province on 24 June.
The hermit, who is known as Kruba Boonchoom, has instructed his followers through a handwritten note to conduct a series of rituals to prevent the earthquake on 24 June.
According to Boonchoom's instruction, each home owner is required to plant a banana leaf in one corner of his or her residence, then pray to local spirits with 19 wild olive leaves, incense, 19 candles, and two boiled eggs.
Boonchoom's instructions end with the well-known Thai saying, "If you don't believe this, don't disrespect it. There is no harm in trying this."
For comments, or corrections to this article please contact: [email protected]
You can also find Khaosod English on Twitter and Facebook
http://twitter.com/KhaosodEnglish
http://www.facebook.com/KhaosodEnglish