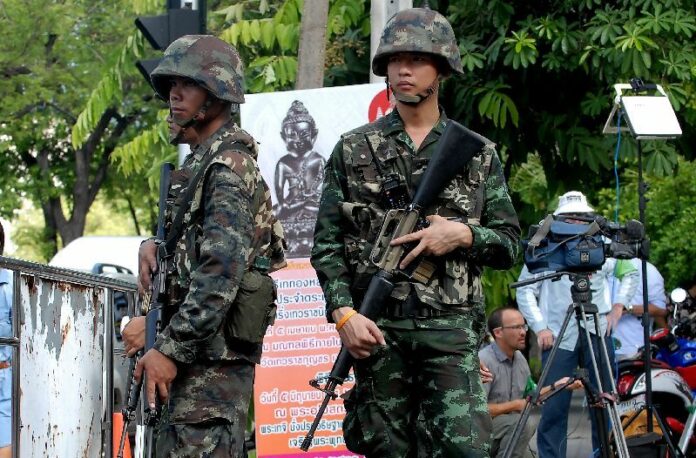 BANGKOK — A senior army officer has promised to release the editor of a left-leaning magazine after his attitude has been "re-adjusted."
Thanapol Eiwsakul, longtime editor of Same Sky Magazine, is currently being held at the Crime Suppression Division in Bangkok for criticisng the military junta on Facebook.
Col. Burin Thongpraphai, a member of the Royal Thai Army's Office of Judge Advocate, said today that Mr. Thanapol's critical Facebook comments violated a condition he signed before being released from his first bout of military detention. That release form barred Mr. Thanapol from participating in politics or expressing any opinions that "incite unrest."
Mr. Thanapol was first summoned and briefly detained by the military junta's National Council for Peace and Order (NCPO) in late May. Since his release, Mr. Thanapol has taken to his Facebook to regularly air his opinions critical of the military junta.
"Mr. Thanapol is well aware that any political activity violates the condition," Col. Burin said, "Officers found many inappropriate posts on his Facebook."
Under martial law the military can detain individuals for up to seven days, but Mr. Thanapol will likely be released on 9 July, only three days after he was taken into custody, said Col. Burin.
"We have to see his behaviour after we interrogate him and re-adjust his attitude," Col. Burin said. He added that so far, Mr. Thanapol has fully cooperated with the "attitude re-adjustment" process and promised not to commit any further acts that would violate his release conditions.
According to his associates, Mr. Thanapol received a call from an army officer on Sunday who reportedly invited him for a discussion over coffee. When Mr. Thanapol arrived at the cafe however, he was promptly arrested and taken to the Crime Suppression Division.
If the military decides to charge Mr. Thanapol with violating the NCPO's release conditions, the activist will be tried in military court and could face up to two years in prison.
For comments, or corrections to this article please contact: [email protected]
You can also find Khaosod English on Twitter and Facebook
http://twitter.com/KhaosodEnglish
http://www.facebook.com/KhaosodEnglish