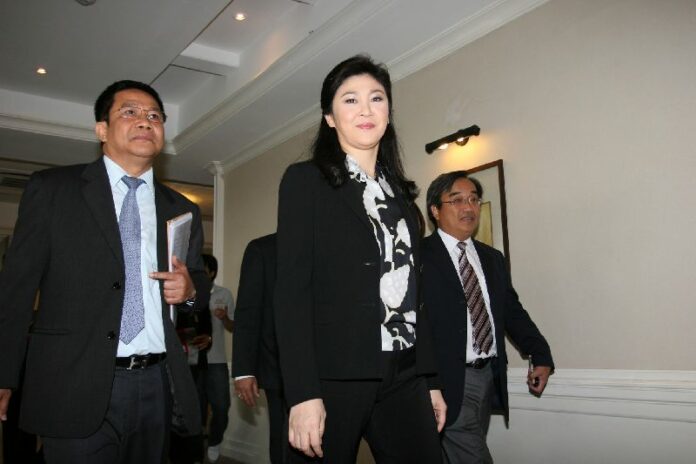 BANGKOK — Former Prime Minister Yingluck Shinawatra has vowed to return to Thailand after her trip to Europe to contest charges of corruption by Thailand's anti-graft agency.
Ms. Yingluck recently secured permission from the military junta's National Council for Peace and Order (NCPO) to leave the country, presumably to join her brother, former Prime Minister Thaksin Shinawatra, for his birthday party on 26 July.
Shortly after staging the coup that ousted Ms. Yingluck's government on 22 May, the NCPO detained Ms. Yingluck for several days and ordered her not to leave the country without securing permission.
But her itinerary has been complicated by the National Anti-Corruption Commission's (NACC) verdict on Thursday that she is guilty of negligence in regards to the widespread corruption that plagued her government's controversial rice-pledging scheme.
The subsidy program, which involved buying rice from Thai farmers at above-market prices, was a hallmark policy of Ms. Yingluck's government. The NACC says Ms. Yingluck's alleged negligence to address corruption in the program cost the state more than 500 billion baht in damages.
The case will now be sent to the Office of the Attorney-General, who will pursue charges under Article 157 of the Criminal Codes against Ms. Yingluck in the Criminal Court. If convicted, Ms. Yingluck could face a maximum prison term of 10 years and a fine of 20,000 baht.
No plan to escape
Although the military junta has not reversed its decision to let Ms. Yingluck leave the country, there was speculation that the former leader would use the opportunity to escape her trials and possible prison term.
For many, Ms. Yingluck's situation is reminiscent of that which her brother, Mr. Thaksin, once faced. Mr Thaksin was also deposed in a military coup and was later charged with corruption. He fled the country shortly before the court found him guilty in 2008 and has been living in self-imposed exile ever since.
But Ms. Yingluck said in a press conference today that she has no plan to escape the criminal charges against her and vows to return to Thailand to contest them.
"There has been allegation that I am going abroad to escape from the cases," Ms. Yingluck said. "Let me insist that my trip is a personal one, and there is clear schedule of return date. I prepared this trip long before the NACC found me guilty in a hasty manner."
She also defended her rights to travel abroad. "Today I am a full citizen. I should have rights and freedom like any other Thai citizen. Let me stress that I will not abandon my Thai brothers and sisters. I will certainly return to Thailand."
Earlier in the press conference, which marked her first public address since the coup, Ms. Yingluck raised concerns that the NACC has been pursuing cases against her at an unusually fast pace compared to its other inquiries.
Ms. Yingluck also questioned why the NACC has not directly implicated her any cases of corruption within the rice scheme, but only charged her with negligence over corruption committed by others. For instance, the NACC did not adequately explain how her government is responsible for the loss of rice stored at private-owned silos, she said.
"The allegation and investigation of the NACC relies on evidence and witnesses that are hostile to me," Ms. Yingluck said." I have presented many evidence and witnesses to the NACC, but the NACC turned them down."
The former leader refused to answer any questions from the press after her speech was over.
Ms. Yingluck's supporters have repeatedly accused the NACC and Thailand's judicial bodies of harboring a bias against Ms. Yingluck and her former government. Critics point to the long series of hostile verdicts and investigations that have been aimed at undermining Ms. Yingluck's administration. Examples include the Constitutional Court ruling that ousted Ms. Yingluck for her decision to transfer an official two years ago, and the Civil Court verdict that prevented riot police from clearing protesters who sought to topple Ms. Yingluck earlier this year.