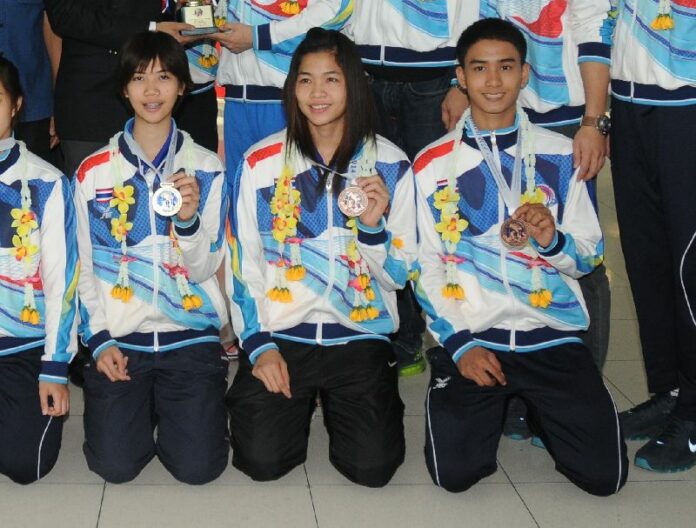 BANGKOK — A top official has called upon all sides of a dispute surrounding a national Taekwondo coach's alleged abuse of his trainees to amicably resolve their differences.
"The best solution is to turn to each other and talk," Suwat Sitthilor, Permanent Secretary of Ministry of Tourism and Sports, said today.
He was referring to a controversy that erupted when Rungrawee Kusara, a member of the Thai National Taekwondo Women Team, accused her coach, South Korea-born Choi Young-Seok, of savagely punching her after she lost a match in the Korea Open tournament in South Korea on 11 July.
According to Ms. Rungrawee's post on social media, Mr. Choi punched her in the stomach and face after he berated her for failing to properly prepare for the match.
Ms. Rungrawee later appeared on a prime-time talk show on the state-owned Channel 3 and demanded Mr. Choi apologise to her publicly. Since her television appearance, Thais have taken to social media to fiercely debate whether Mr. Choi's behavior was acceptable and Ms. Rungrawee's response warranted.
A number of prominent athletes have also entered the fray, most prominently Yaowapha Buraphonchai, who competed under Mr. Choi's guidance and won a bronze medal in the 2004 Olympics. Ms. Yaowapha defended the coach's methods and criticised Ms. Rungrawee for distorting the story for her own profit. Ms. Yaowapha was joined by 2012 Olympian and bronze medalist Chanathip Sonkham.
The debate escalated even further when Mr. Choi refused to return to Thailand with the National Team, raising fears that the popular coach would quit his job and leave the team leaderless as it prepares for the 2015 Southeast Asian Games, which will be held in Singapore.
In an effort to prevent the controversy from spiraling out of control, Permanent Secretary of Ministry of Tourism and Sports Mr. Suwat said today that Mr. Choi and Ms. Rungrawee should discuss the matter with each other and reach a mutual understanding privately, possibly with senior officials serving as the mediators.
"If both persons [Mr. Choi and Ms. Rungrawee] had been able to talk to each other, the incident would not have escalated this far," Mr. Suwat said.
According to Mr. Suwat, both Mr. Choi and Ms. Rungrawee are to blame for what has happened.
"I believe that, in her heart, the athlete wants to perform well, but her discipline may have been too lax. When the result came out badly, the coach lost his temper."
Mr. Suwat also blamed the explosion of the scandal on social media, in which supporters of both sides have traded virulent accusations against each other and the athletes who publicly took sides. Therefore, Mr. Suwat said, all senior officials of all related agencies should immediately intervene and put a gag order on everyone involved.
"How the previous and current athletes kept airing their opinions is not a good thing for the [Thai Taekwondo] Association, because these opinions benefit one side and damage the other … The unity of sports industry will be affected. If people are still allowed to talk and argue with each other like this, we will all be screwed."
The official also suggested that all sports clubs in Thailand learn lessons from 'Taekwondo-gate' and prevent further incidents by reviewing the methods of punishment that coaches use on their athletes.
"The most important thing for all sports players, both professional and amateur, is to train themselves to be disciplined, in order to become world-class athletes," Mr. Suwat advised.
For comments, or corrections to this article please contact: [email protected]
You can also find Khaosod English on Twitter and Facebook
http://twitter.com/KhaosodEnglish
http://www.facebook.com/KhaosodEnglish