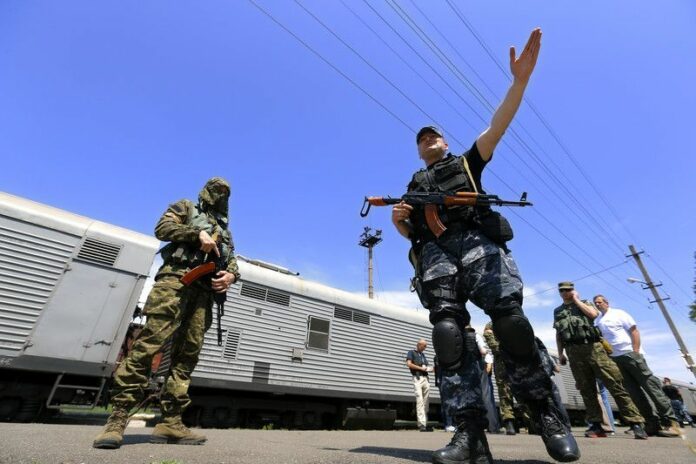 By DPA correspondents
MOSCOW / KIEV (DPA) — The Ukrainian government and Russian-backed separatists Sunday reached a preliminary agreement on removing bodies from the crash site of Malaysia Airlines flight MH17.
Ukrainian Deputy Prime Minister Vladimir Groisman confirmed that the victims' remains would be stored in refrigerated railway coaches. They are to be taken to a laboratory in Kharkiv, more than 250 kilometres north of the crash site and far from rebel-held territory.
He said there were about 900 insurgents around the site near the village of Grabovo where the United States says MH17 was shot down by a surface-to-air missile, killing all 298 passengers and crew aboard the Boeing 777-200 bound for Kuala Lumpur from Amsterdam.
Ukrainian emergency services said they had recovered 196 of the 298 bodies so far, but a spokesman said the search operations were under surveillance and impeded by armed separatists.
On Saturday, Kiev accused the rebels of "trying to destroy evidence" and hampering the investigation, and international teams were aiming for greater access to the area on Sunday.
The government said in a statement that the "terrorists" had taken bodies from the crash site in eastern Ukraine to a morgue in the rebel stronghold of Donetsk, "where the 'experts' with Russian accents claimed they intend to perform autopsies."
In addition to tampering with bodies, Kiev said the separatists were trying to move remnants of the aircraft to Russia in order to cover-up their "international crime."
World leaders have called on the rebels to give international investigators unfettered access to the site.
As part of its investigation into the disaster that killed 193 of its citizens, the Netherlands dispatched Foreign Minister Frans Timmermans and a 15-member team to Kiev.
Images of the rebels foraging through victims' possessions were "disgusting," Dutch Prime Minister Mark Rutte told a press conference Saturday, adding that the bodies must be recovered immediately.
In one of a series of telephone calls Saturday among international leaders, Rutte demanded Russian President Vladimir Putin exert his influence over the separatists.
"I told him, 'Time is running out for you to show the world that you have good intentions, that you will take responsibility'," Rutte said.
Some 130 doctors, military troops and aviation experts from Malaysia arrived in Ukraine and are expected to be at the site Sunday.
Interpol said it was deploying a team to help identify remains.
A group of international monitors, who are neither aviation nor forensic experts, were given limited access to the site on Saturday and were hoping to return Sunday, security conditions permitting.
Ukrainian emergency services said that some 380 workers were at the scene, including divers who were searching a nearby lake. Their search was expanded from 25 to 34 square kilometres.
The Interior Ministry said earlier that hundreds of rooms have been reserved at a hotel in Kharkiv for relatives of the victims, and that translators and psychologists were present.
Malaysia Airlines released the names Saturday of people aboard the doomed jetliner, raising the count of Dutch citizens to 193. The manifest for flight MH17 included 43 Malaysians, 27 Australians, 12 Indonesians, 10 from Britain, four Germans, four Belgians, three Filipinos, one Canadian and one New Zealander.
US President Barack Obama said their deaths were "an outrage of unspeakable proportions" and called Friday on Moscow, pro-Russian separatists and Kiev to adhere to a ceasefire to allow an investigation.
Obama did not say whether Washington believes the civilian plane was intentionally targeted or was mistakenly assumed to be a Ukrainian military aircraft. He stopped short of directly blaming the rebels.
Obama and German Chancellor Angela Merkel "emphasized that Russia bears a clear responsibility to deny separatists in eastern Ukraine continued access to heavy weapons," the White House said.
Merkel later spoke with Putin, pressing him to exert influence on the rebels to allow investigators access to the site, the government in Berlin said Saturday.
Ukrainian President Petro Poroshenko and French President Francois Hollande warned against any attempt to thwart the investigation into plane's downing. In a telephone call the two leaders emphasized the importance of establishing the "indisputable facts" of the tragedy, Elysee Palace said in a statement.