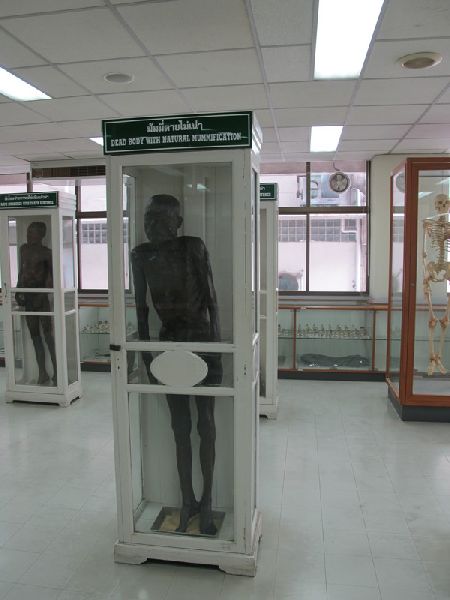 By Bill Bredesen
BANGKOK (DPA) — Mummified serial killers, deformed foetuses and bisected human heads probably are not what most travellers dream of seeing on their Thai holiday.
But then again, some do.
On a recent weekday morning in Bangkok, two university-age British backpackers were among the steady number of foreign visitors emerging from Siriraj Medical Museum, on the campus of the country's oldest medical school. They were wide-eyed at what they had seen.
"You've got to have a fairly strong stomach," said Nick Bushell, from London.
"I wasn't expecting it," agreed Chris Lock. "It was pretty shocking."
Originally established as a teaching venue for the school's medical students, Siriraj Medical Museum today is increasingly better known as a tourist destination.
Last year, it attracted more than 20,000 foreign visitors, representing one-quarter of all admissions, museum director Tumtip Sangruchi said.
The museum has become famous for its morbid photographs of murders and accidents; for its mermaid babies and conjoined twins preserved inside glass jars; and for its embalmed human cadavers in various states of dissection, housed in permanent display cases.
"We have very unique exhibitions. Initially, they were for teaching purposes only, but since the specimens are rare, we decided to open the museum to the public," Tumtip said.
Detailed scientific exhibitions on forensic medicine, pathology, anatomy, parasites and pre-historic human evolution are all on display at the museum, but foreigners tend to overlook the less-sensational elements and concentrate on the gore.
"It's rare to see these things," said Cara Hull, a biology student from Australia. "A lot of universities have them, but people don't always have access to them."
"I really liked the anatomy section, where they have cross-sections of all the bits of the human body," she said.
As a tourist destination, Siriraj Medical Museum stands in stark contrast to the vision of palm-fringed beaches, Buddhist temples and bejewelled elephants promoted by Thailand's tourism authority.
"The tourism board wants to give visitors a 'Disneyland' picture of the country, just the bright and glossy side. But oftentimes it's an obsolete side, just quaint anachronisms," said Jim Algie, author of the book Bizarre Thailand, which explores the country's darker sides.
"Travellers want authentic experiences these days, and they often want to see the nitty-gritty of the countries they go to," he added.
Globally, the trend of "dark tourism" has already gone mainstream. In neighbouring Cambodia, tourists flock to the Tuol Sleng Genocide Museum and Killing Fields, while in Vietnam they head to war sites, including the infamous torture den known as the Hanoi Hilton.
At the University of Central Lancashire in England, there is even an Institute for Dark Tourism Research, which has been in operation since 2005, studying why tourists seek out places of death, disaster or the seemingly macabre.
The medical museum in Bangkok "combines elements of supernatural tradition and Buddhist compassion," said Algie, noting that droves of Thai schoolchildren pass through the museum each week, often leaving candy or dolls as offerings to the babies who died before childbirth.
"We pretty much just wanted to see something different," said Bushell, the British backpacker. "We also went to the capital punishment museum. That was good too, but less graphic."
At the Bangkok Corrections Museum, set in a leafy public park on converted former prison grounds, the dark history of Thailand's criminal justice system is put on display.
It features graphic depictions of jailhouse tortures that were ultimately abolished under a new penal code in 1908.
One punishment involved a large rattan ball with inward-pointing spikes. Guards would force a prisoner into the ball and allow elephants to kick it around. The torture was known as "takraw," named after the foot-volleyball game native to South-east Asia.
The museum has also preserved one original cellblock, now used to showcase ghastly artefacts such as the clay dishes used in condemned prisoners' last meals, the wooden cross that prisoners would cling to during execution, and the red flag that signalled an execution site.
Capital punishment in Thailand was carried out by sub-machine gun until 2003. Condemned prisoners were fixed to a wooden cross, and the executioner would fire bullets through a screen into their hearts.
The country now uses lethal injection.
Thailand's last firing-squad executioner, Chavoret Jaruboon, remains an enduring figure in the country. His life story was recently made into a film, The Last Executioner, which won a best actor award for its star Vithaya Pansringarm at the 17th Shanghai International Film Festival in June.
The movie's success on the festival circuit, and the fact that part of it was filmed at the Bangkok Corrections Museum, might drive more visitors to the site, Algie said.
"Tourism is definitely becoming more sensationalistic," he said.