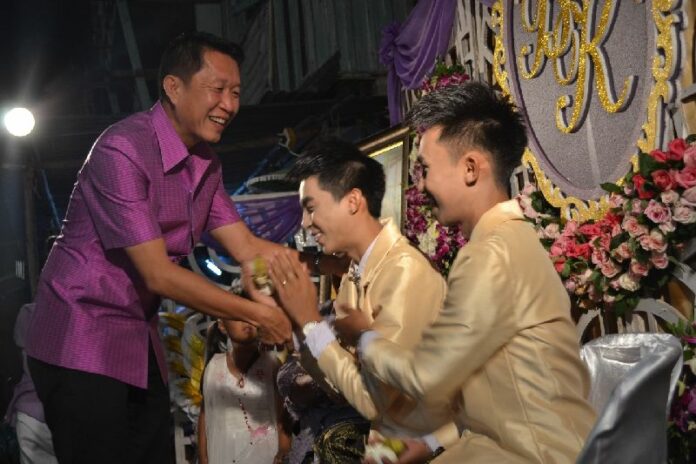 UDON THANI — A gay couple tied the knot in the presence of the mayor of Udon Thani province on Saturday night.
Maitri Chotipinit and Chirasak Klangboriboon dated for four years before they decided to get married, their friends and family at the ceremony said.
Their wedding, which took place at Mr. Maitri's house in Don Udom community, was blessed by Udon Thani Mayor Itthipon Triwattanasuwan and senior family members of the bride and groom.
As he gave traditional blessings to the couple, Mr. Itthipon joked that he was very nervous at first because he did not know which person should be addressed as "bride" or "groom."
"I thought, I will call whoever is dressed as the man the groom and woman the bride, but they ended up dressing in the same way!" the mayor said to laughter from the crowd. "I had to ask my deputy to know which one is the bride and which one is the groom."
He later struck a more serious tone and praised Mr. Maitri and Mr. Chirasak for coming out.
"Your wedding is a brave action," Mr. Itthipon told the newlyweds. "You are brave for expressing yourself to the society. It is a good example for other gay couples."
Mr. Maitri, a curator at Udon Thani Municipal Museum, said his family welcomed the marriage. They first met when Mr. Chirasak, who was a college student at the time, visited the museum where Mr. Maitri was working as the curator, Mr. Maitri said.
Thai society is known for its relatively high tolerance toward gay, lesbian, and transgender communities, compared to other socially-conservative nations in the region like Myanmar and Malaysia.
Although Thai laws do not recognise same-sex marriage or civil unions, many gay men and lesbian women publicly marry their partners and live as couples, while a number of gay rights activists have been pushing for a legal recognition of same-sex matrimony in recent years.
However, many gay and lesbian Thais still face some levels of discrimination. In 2013, UNESCO reported that "nearly one-third (30.9%) of self-identified LGBT students reported having experienced physical abuse, 29.3% reported verbal abuse, and 24.4% reported being victims of sexual harassment because of their sexual orientation or gender identity/expression."
Last month, ultra-nationalist ASTV Manager newspaper published a "parody piece" that fantasized about a transgender anti-coup activist being raped in prison by other male inmates because of her protests against the military junta. The piece caused an uproar on social media and the newspaper later removed the online version of the story.
For comments, or corrections to this article please contact: [email protected]
You can also find Khaosod English on Twitter and Facebook
http://twitter.com/KhaosodEnglish
http://www.facebook.com/KhaosodEnglish