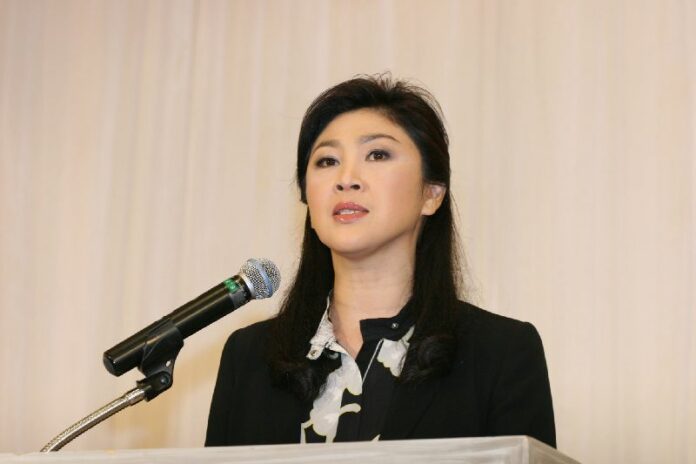 BANGKOK — Former Prime Minister Yingluck Shinawatra may ask the military junta for permission to extend her stay abroad, a top military officer said.
Ms. Yingluck left the country for Europe late last month, ostensibly to visit her brother former Prime Minister Thaksin Shinawatra in France. Although she promised to return to Thailand to fight corruption charges, there is widespread speculation that she will go into exile.
Lt.Gen. Kampanart Ruddit, deputy chief-of-staff of the Royal Thai Army, said today that the junta has not been informed that Ms. Yingluck will postpone her return to Thailand, scheduled to be 10 August, but she can file a request to the junta if she would like to extend her stay.
"If Ms. Yingluck indeed does not come back, she will have to explain what kept her from returning to Thailand. The leader of the NCPO will judge whether she can remain abroad," Lt.Gen. Kampanart said, referring to the National Council for Peace and Order.
Although the NCPO previously issued arrest warrants on politicians and activists who either left the country without permission or failed to report to the junta in time, Lt.Gen. Kampanart said the military rulers consider many factors before they prosecute those who violate the NCPO's travel restrictions.
"In the past two months, the NCPO has been very negotiable. We do not just issue arrest warrants right away. If anyone has a task [that kept them away], they can inform us," Lt.Gen. Kampanart said. "The NCPO will give them time, but when time is up we will have to issue arrest warrants."
He also dismissed criticism that the NCPO was naive to let the former leader leave the country, saying that Ms. Yingluck is free to travel as she wishes because she remains innocent until proven guilty in court.
"I ask you, what rights does the NCPO leader have to forbid Ms. Yingluck from going abroad? If he had done so, it would affect the principle of human rights, and he would be criticised," Lt. Gen. Kampanart said. "There's only one standard. No one has the privilege. I insist that the NCPO leader has no intention to help Ms. Yingluck escape her charges."
Vacation or exile?
Last month, the National Anti-Corruption Commission (NACC) found Ms. Yingluck guilty of negligence that allegedly led to massive corruption in the rice-mortgage scheme – a key policy of her administration.
Her case has been forwarded to the Criminal Court for further prosecution. If found guilty, Ms. Yingluck could face up to 10 years in prison and a fine of 20,000 baht.
Shortly before she left the country, the former leader insisted on her innocence and questioned the legality of NACC's investigation against her. She also vowed to return to Thailand to contest the charges.
"There has been allegation that I am going abroad to escape from the cases," Ms. Yingluck said on 18 July. "Let me insist that my trip is a personal one, and there is clear schedule of return date. I prepared this trip long before the NACC found me guilty in a hasty manner."
Ms. Yingluck's aides also told the media that she was merely traveling to attend a birthday party for her brother, Mr. Thaksin, in Paris on 26 July, and to enjoy a private vacation in Europe with her son.
However, for many Thais, Ms. Yingluck's situation is reminiscent of that which Mr. Thaksin once faced. Mr. Thaksin was also deposed in a military coup and was later charged with corruption. He fled the country shortly before a court found him guilty in 2008 and has been living in self-imposed exile ever since.
A survey claimed that a majority of Thais expect Ms. Yingluck to follow her brother's footsteps and chose a life of exile.
For comments, or corrections to this article please contact: [email protected]
You can also find Khaosod English on Twitter and Facebook
http://twitter.com/KhaosodEnglish
http://www.facebook.com/KhaosodEnglish
For comments, or corrections to this article please contact: [email protected]
You can also find Khaosod English on Twitter and Facebook
http://twitter.com/KhaosodEnglish
http://www.facebook.com/KhaosodEnglish