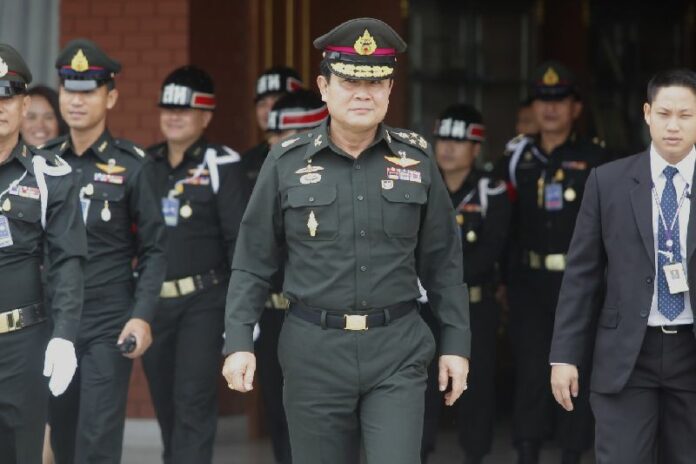 BANGKOK — The chairman of Thailand's military junta has been endorsed for the premiership by a longtime political rival and prominent leader of the Redshirt movement.
"Now that he has seized power and assumed the role as the leader of [the junta], he should take the position of Prime Minister for himself too," said Virakarn Musikapong, a leader of the Redshirts' umbrella organization the United Front of Democracy Against Dictatorship (UDD).
The activist added, "He should not worry about criticism or accusations that he launched the coup for himself. As the proverb goes, don't be afraid of slime when you try to catch a frog."
Mr. Virakarn made the comment after attending a talk given by Gen. Prayuth at Bangkok's Army Club yesterday, in which the junta leader announced the official "kick-off" of the country's year-long national reform effort.
Under the 2014 interim constitution, which was drafted by the junta, members of the National Legislative Assembly (NLA) will vote to name a new Prime Minister and Cabinet to head the interim government until national elections are held at the end of next year. The voting session is excepted to take place by the end of the month.
Although Gen. Prayuth has repeatedly refused to say whether he will take the seat as Prime Minister, many politicians and prominent figures have suggested that the junta chairman is fit for the task. His endorsers include the Supreme Patriarch of the Thai Buddhism and Gen. Prayuth's own brother, Lt.Gen. Preecha Chan-ocha, who is also a member of the NLA.
Mr. Virakarn's endorsement for Gen. Prayuth is bound to raise speculation among Redshirt activists, especially because Mr. Virakarn regularly lashed out at Gen. Prayuth and the military prior to the 22 May coup that deposed the Redshirt-allied government.
Since the military takeover, a number of Redshirt activists have renounced their ties to the UDD and the previous government to publicly throw their support behind the military junta, which is known as the National Council for Peace and Order (NCPO).
Their "defection" followed the NCPO's intense crackdown on Redshirts in the wake of the coup. Hundreds of activists, academics, and politicians deemed sympathetic to the previous government were arrested, detained, and intimidated by the military. Several Redshirts who maintained their defiance were ultimately arrested and are now being tried in military court.
The NCPO claimed these measures were necessary to "decolourise" the Redshirt-Yellowshirt conflict that has rocked Thai politics for much of the past decade. Gen. Prayuth insisted that he wants all political sides to resolve their conflicts and join the NCPO's pursuit of "national reconciliation."
During his speech about reforms at the Army Club yesterday, Gen. Prayuth paused and turned his attention to the subject of political disputes.
"I want all the disputes to end. Can you do that, brother Veera?" Gen. Prayuth said to Mr. Veerakan, using his former name.
Mr. Veerakan smiled and nodded his head.
For comments, or corrections to this article please contact: [email protected]
You can also find Khaosod English on Twitter and Facebook
http://twitter.com/KhaosodEnglish
http://www.facebook.com/KhaosodEnglish