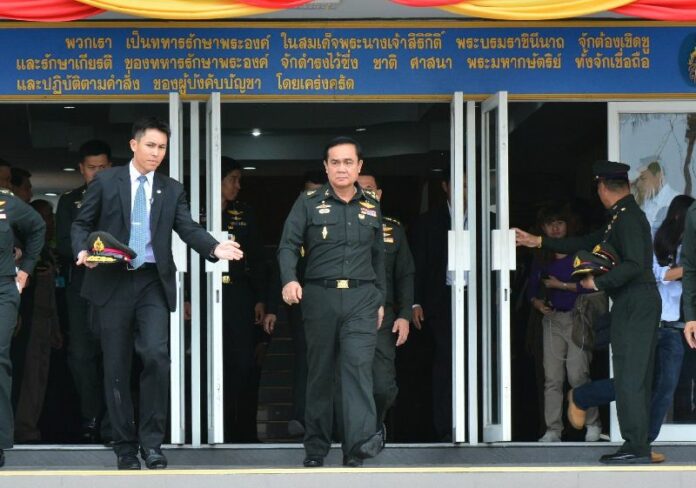 BANGKOK — The leader of Thailand's 22 May coup has further consolidated power after his rubber-stamp parliament voted him into the position of Prime Minister this morning.
Following a unanimous vote from the country's interim legislature, Gen. Prayuth Chan-ocha now holds three top positions of power: Prime Minister, chairman of the junta's National Council for Peace and Order (NCPO), and commander of the Royal Thai Army, although he is scheduled to retire from the latter in September.
Gen. Prayuth was the only person nominated for the position of Prime Minister by the National Legislative Assembly (NLA), a body whose members were handpicked by the NCPO earlier this month. More than half of the 197 legislators are retired or active military and police officers, including a brother of Gen. Prayuth.
A total of 191 lawmakers voted in favour of Gen. Prayuth, three abstained, and three did not show up to vote, citing illness.
His Majesty the King is expected to endorse Gen. Prayuth as the 29th Prime Minister of Thailand this evening, officials said.
According to Gen. Prayuth, his interim government will administer the country and institute a wide range of "reforms" over the next year, after which a general election is scheduled to take place in October 2015 at the earliest and only if "national reconciliation" has been achieved.
One-man show
In addition to leading the interim government, Gen. Prayuth will also retain supreme power over the country's administration through his position as chairman of the NCPO.
Article 44 of the junta's temporary charter licenses the NCPO leader to "issue any order or direct any action to be done or not to be done, irrespective of whether the order or action would produce legislative, executive or judicial effect" in defense of the country's national security, monarchy, economy, and public order.
Since seizing power, Gen. Prayuth, a 60-year-old career soldier with no experience in governance, has also appointed himself as chairman of several committees overseeing the national economy, including the Board of Investment (BOI), the National Energy Policy Committee, and the Special Economic Zone Development Committee.
Gen. Prayuth is the first individual to amass such concentrated and widespread power over Thailand's national administration since 1971, when Field Marshal Thanom Kittikachorn installed himself as Prime Minister, chairman of Revolutionary Council, and commander of the armed forces. None of the coup leaders in Thailand's most recent military takeovers – in 2006 and 1991 – went on to assume the position of Prime Minister.
'Finishing the job'
According to Suthachai Yimprasert, professor of Thai political history at Chulalongkorn University, Gen. Prayuth has consolidated power to address the shortcomings of the 2006 coup, which deposed the popular Prime Minister Thaksin Shinawatra but failed to eradicate his influence over Thai politics. Thaksin-backed parties have won every national election since Mr. Thaksin joined the political scene in 2001.
"The elite feels that the 2006 coup didn't finish the job," Mr. Suthachai said."So they feel they have to be more thorough this time. They are afraid of another failure. That's why they put a soldier in charge as Prime Minister."
Claudio Sopranzetti, the author of a book on Thai politics, described the 2006 coup as a learning process for the anti-Thaksin political faction, which is mostly composed of conservative middle and upper class Bangkokians, the country's military brass, and Thailand's traditional elite.
"Basically, they realized that controlling independent bodies and the judiciary itself wasn't enough to actually win elections," said Mr. Sopranzetti, a post-doctoral research fellow at Oxford University. "I think Prayuth is making a personal attempt to assume the type of charismatic authority with popular support that none of the opposition governments in the last 20 years have been able to achieve."
Gen. Prayuth's ambitions have been widely underestimated, Mr. Sopranzetti added.
"I think on both sides of the spectrum, people very quickly believed that Prayuth was a puppet," Mr Sopranzetti said. "It's becoming more and more clear that he may not be the only actor in town, but he is definitely one of the actors, not just a puppet."
Gen. Prayuth says he led the 22 May coup, the 12th successful military takeover in modern Thai history, to put an end to deadly confrontations between pro- and anti-Thaksin demonstrators. Prior to the coup, anti-government protesters staged six months of street protests in an effort to oust the Thaksin-allied government led by his sister, Prime Minister Yingluck Shinawatra.
Since seizing power, the coupmakers have largely adopted the platform of anti-Thaksin protesters: pursuing widespread "reforms" before holding the next general election.
Gen. Prayuth has already ruled over Thailand with a more authoritarian grip than his predecessors in 2006. The NCPO has outlawed criticism of the coup, banned public demonstrations, and attempted to censor the media. Hundreds of activists and politicians, most of whom were allied to the former government, were detained and held incommunicado in military camps for up to seven days in the weeks following the military takeover.