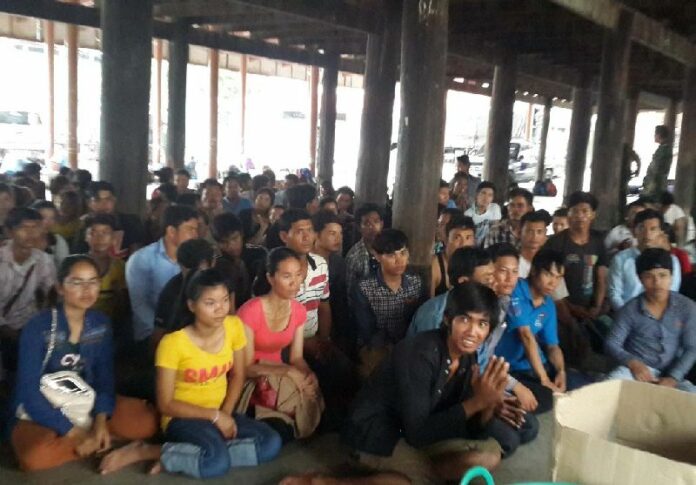 SAMUT SAKORN — New details have emerged suggesting that the 190 Cambodian workers who were left in a paddy field in Samut Sakorn province yesterday morning are not victims of a scam as was previously feared.
After receiving a tip-off yesterday, police picked up the migrants in Samut Sakorn province, where they had been abandoned by their van drivers, and brought them to a Wat Tha Sao Temple to receive food and water. The migrant workers told police and local administrators that they were duped into paying a Thai broker 20,000 baht each for the promise of work in Thailand.
However, the manager of BS Work company, Wirat Phandontri, later arrived at Wat Tha Sao Temple and identified himself as the Cambodians' legitimate employer.
Mr. Wirat said he contracted 158 workers through a middleman for his company, which is based in Pathum Thani province. He claimed he did not know why the drivers decided to leave the workers behind in Samut Sakorn province.
"I think the drivers misunderstood," Mr. Wirat said, "I told them to take [the workers] to a destination in Pathum Thani, but they ended up driving them to Samut Sakorn."
The migrant workers told police that one of their van drivers in Thailand "suddenly felt pity" and told them they were victims of a scam. He then called the police and convinced the other vans to drop the passengers off in Samut Sakorn province.
Pol.Col. Thanapol Suwannawong, an investigative officer at Krathoom Ban Police Station, told Khaosod English that the police are no longer investigating the case.
"They sent the workers to the wrong place," Pol.Col. Thanapol said.
Most of the workers, 158, were later transported to apply for work permits at a One Stop Service centre in Pathum Thani province, which will allow them to stay and work in Thailand legally until 31 March 2015.
Mr. Wirat said that he did not contract the other 32 Cambodians in the group, who police say are the husbands, wives, and relatives of the contracted workers. They were released from police custody and can stay in Thailand until 1 September, per the limit of their tourist visas.