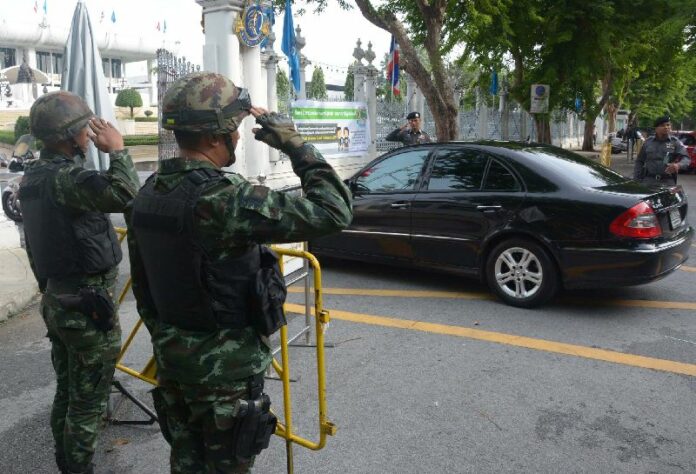 BANGKOK — Thailand's military junta will not revoke nationwide martial law any time soon despite the recent formation of a new semi-civilian government, its spokesperson said today.
Col. Sirichan Nga-thong said that repealing martial law, which grants the military extensive powers to restrict basic human rights and freedoms, is not necessary because the law has not dramatically affected public life.
"People still live their lives normally, and more foreign tourists have actually arrived in Thailand, despite the martial law," Col. Sirichan said at a press conference today.
Junta-leader Gen. Prayuth Chan-ocha unilaterally declared martial law three months ago, ostensibly to prevent an escalation of violence between pro- and anti-government demonstrators who were rallying in Bangkok at the time. He staged a coup d'etat two days later on 22 May.
Prior to Col. Sirichan's comments, there was speculation that the junta might repeal martial law now that an interim government has been formed to administer the country for the next year. The junta, formally known as the National Council for Peace and Order (NCPO), appointed a National Legislative Assembly in early August. The NCPO's chairman, Gen. Prayuth, was selected for the premiership yesterday.
Yet Col. Sirichan insisted that the NCPO needs to maintain martial law to ensure peace and order.
Martial law, which was written in 1914, grants the military the authority to censor the media, read letters and messages, announce a curfew, and detain individuals for up to seven days, among other powers. Those who defy the law are tried in martial court.
Since staging a coup on 22 May, the junta has used martial law to crack down on anti-coup dissidents by banning political protests and detaining hundreds activists.