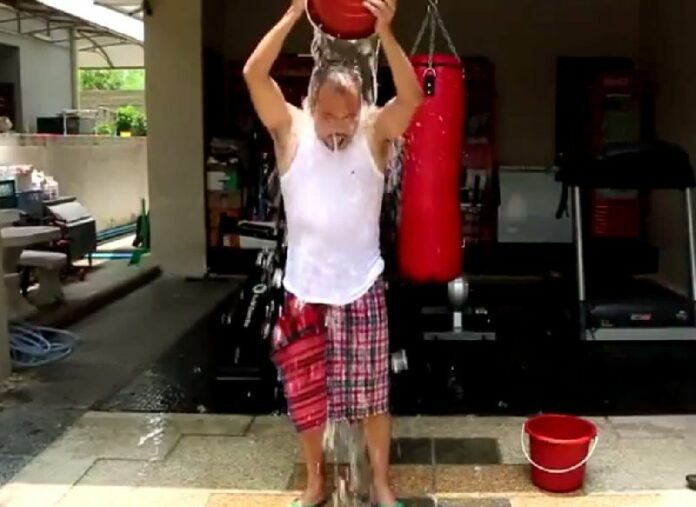 BANGKOK — A leader of Thailand's Redshirt movement accepted the Ice Bucket Challenge from his political archenemy today.
Nattawut Saikua, a core activist of the United Front of Democracy Against Dictatorship (UDD), was "nominated" to pour a bucket of ice water over his head by Election Commissioner Somchai Srisuthiyakorn, who completed the challenge yesterday at the Government Complex in Bangkok.
Mr. Nattawut uploaded a video of himeself accepting the challenge today. In the video, Mr. Nattawut is wearing plain clothes and jokes that he is not wearing office clothing because he is now an unemployed man; the military junta banned all political activity after it staged a coup on 22 May.
The UDD leader also expressed concern that the action of pouring ice water over oneself has eclipsed the challenge's original intention of raising money and awareness for ALS patients.
"However, I think it's a sign that people in the world still have good will toward each other," Mr. Nattawut said in the video. "Compared with many video clips about violence that humans committed to each other in many countries, I think this activity is very uplifting."
Mr. Nattawut then poured two buckets of ice water over himself. He refused to nominate anyone, explaining that "many people have done this already." The activist added that he has made a donation to an orphanage in Nonthaburi province in the spirit of the challenge.
"Everything else is still the same, you got that?" Mr. Nattawut said to the camera, possibly alluding to the relationship between him and Mr. Somchai.
The two men's rivalry stems from Mr. Somchai's reluctance to organise a snap election called by former Prime Minister Yingluck Shinawatra and supported by the UDD in December. Instead, Mr. Somchai insisted that the country was not ready for a national poll, effectively siding with anti-government protesters who sought to boycott the 2 February election and oust Ms. Yingluck's government.
In April, the Constitutional Court invalidatd the election, forcing the government to ask the EC to organise a new poll. The EC repeatedly stalled and failed to organise a new poll before the military seized power on 22 May.
The Ice Bucket Challenge is part of an ongoing social media campaign that began in the United States this summer to raise awareness about ALS, a neurodegenerative disease with various causes.
Although the gimmick originally required pouring a bucket of ice water over oneself and then nominating another person to do the same within 24 hours or donate to the ALS Association, many Thais have opted to donate to other charities after completing the challenge. For instance, former Prime Minister Abhisit Vejjajiva donated to the Red Cross yesterday.
For comments, or corrections to this article please contact: [email protected]
You can also find Khaosod English on Twitter and Facebook
http://twitter.com/KhaosodEnglish
http://www.facebook.com/KhaosodEnglish