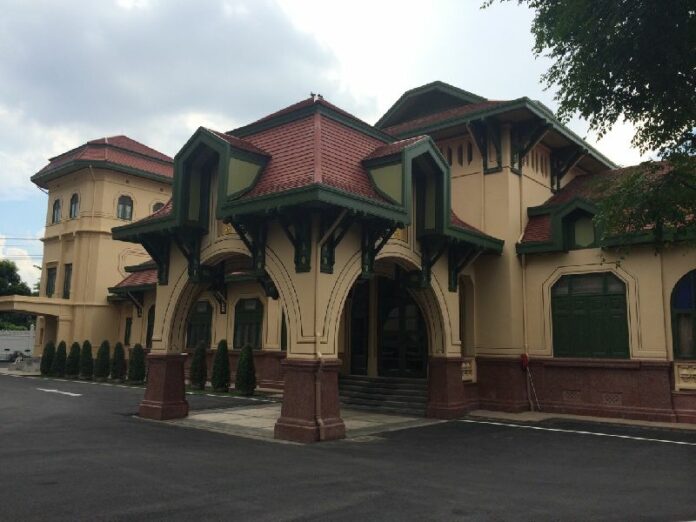 BANGKOK — A state employee has reported encountering a ghost inside the Government House, just days after officials completed a series of rituals aimed at appeasing the spirits believed to reside inside the building.
Sinsakorn Aroon, a 60-year-old official, told reporters yesterday that he saw a ghostly phenomenon inside Nari Samosorn Building at around 6 pm on Wednesday.
Mr. Sinsakorn, who is in charge of the audio system in the Government House's press conference room, said he was preparing to leave the conference room when he spotted a woman sweeping the floor.
"I said to her 'You are still working? I will leave now. When you leave please lock the door,'" recalled Mr. Sinsakorn, who said he initially thought the woman was a housekeeper. "Then I wondered why a housekeeper would be cleaning at this hour. The repair workers were already done and the building's housekeepers had already gone home."
With that realisation, Mr. Sinsakorn said he suddenly felt cold. The woman then walked into a set of doors and disappeared right in front of him, the official claimed.
"If she was a human, I would have heard the door move," Mr. Sinsakorn said. "I was frozen on the spot. I could only hear traditional Thai music, even though I didn't hear that sound earlier. Once I regained my conciousness, I ran off and shut the door."
Mr. Sinsakorn said he has heard tales about Government House ghosts from other officials, including a painter who claimed a female ghost told him in a dream to use "dark colours" when he painted inside the building, and an official who said workers noticed a scent of mysterious "ancient perfume" during a recent renovation.
"I think I saw the ghost because she wants to instruct me to keep the building clean," Mr. Sinsakorn said. "I plan to make merits for her soul."
This latest apparition took place despite the fact that a feng shui master was recently hired to oversee the realignment of plants and furniture inside the Government House. Military junta chairman and Prime Minister Prayuth Chan-ocha also prayed to spirits at several different altars in the complex on his official first day of work this week.
A number of Government House officials privately told our correspondent that they believed the female ghost manifested herself to Mr. Sinsakorn because the ceremonies needed to appease the supernatural entities watching over the area were not properly conducted.
Related articles:
Gov't House Renovation Briefly Stalled By 'Ghosts'