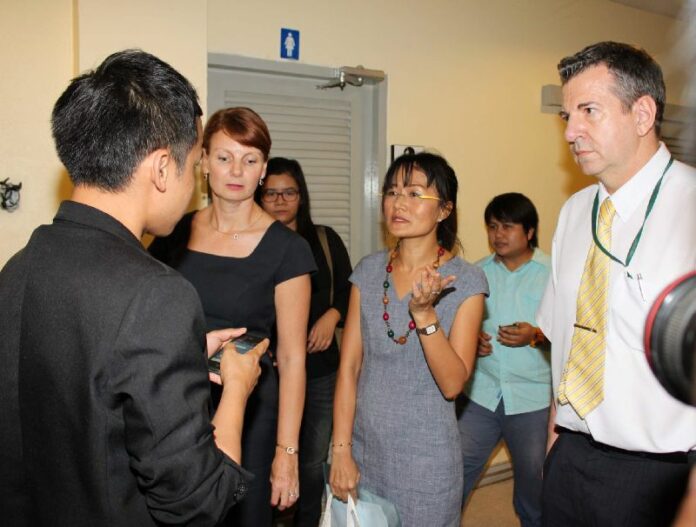 BANGKOK — DNA traces found on the bodies of two British tourists murdered in southern Thailand do not match any of the possible suspects detained by police, confirming that the culprit behind the gruesome murder is still at large.
The naked bodies of David Miller, 24, and Hannah Witheridge, 23, were found beaten to death on 15 September in Koh Tao, a popular resort island in the Gulf of Thailand.
Thai police held at least six Burmese migrant workers and one British man for questioning in the wake of the murder, but forensic tests reveal that the DNA found on the victims' bodies do not match any of the potential suspects, said Pol.Maj.Gen. Pornchai Sutheerakhun, director of Institute of Forensic Medicine (IFM).
The British man, a friend of Mr. Miller, was detained at the airport and asked to stay in Thailand to assist with the investigation.
The DNA traces came from semen found in Ms. Witheridge's body. According to Pol.Maj.Gen. Pornchai, the single hair found in Ms. Witheridge's left hand could not be used for DNA testing.
The results have sent the investigation back to square one, as Thai police say they currently have no information about other possible suspects. It is unclear whether the perpertrator is still on the tiny 21 km sq island because boats have been able to leave the area since Monday.
The latest development will likely be seen as another example of incompetence on the part of authorities investigating the case. Thai police have already committed several blunders, such as failing to seal off the crime scene, misidentifying Mr. Miller and Ms. Witheridge in the CCTV footage, and providing contradictory statements to the press.
However, Pol.MajGen. Pornchai, the director of Thailand's forensic institute, said yesterday that police are hoping three cigarette butts found near the crime scene will provide a new lead. The DNA traces found on the cigarettes do not "conflict" with the semen found in Ms. Witheridges' body, but police say more samples are needed to make a definitive match.
Pol.Lt.Gen. Panya Mamen, commander of 8th Provincial Police Force, said he has instructed officers around Koh Tao to "expand" their investigation and possibly round up "Thais and fishing boat crews" in the area for questioning.
"We will send more reinforcements to Koh Tao," Pol.Lt.Gen. Panya said, "We will conduct a raid on the entire island if we have to."
Thailand's Prime Minister and junta leader Gen. Prayuth Chan-ocha has also come under fire from a number of British news outlets who have accused him of victim blaming in recent days.
"[Tourists] think our country is beautiful and is safe so they can do whatever they want," the general was quoted as saying yesterday. "Can they be safe in bikinis… unless they are not beautiful?"
A day earlier he said, "We also have to look into the behaviour of [Mr. Miller and Ms. Witheridge]."
The British Embassy is seeking clarification about Gen. Prayuth's comments, which they said have "raised" their concerns, according to a statement released today.