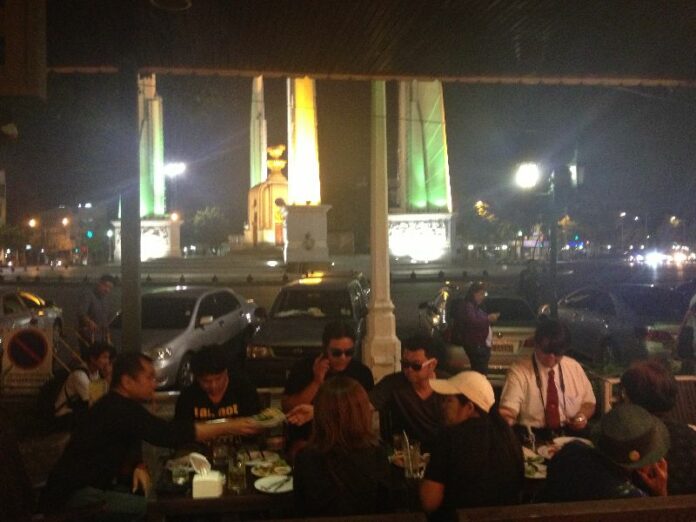 BANGKOK — Dozens of police officers surrounded Democracy Monument last night to prevent a group of Redshirt supporters from picnicking on the monument's steps.
The Redshirts originally planned to hold a laab (northeastern-style pork salad) picnic at the historic site on Ratchadamnoen Avenue to commemorate the 41st anniversary of the student uprising against military rule in 1973.
But the group decided to change their plans and dine at a restaurant opposite the monument after dozens of police officers arrived at the scene.
"We are here today to have dinner and reminisce about the old days," said Arnon Nampha, a lawyer who organised the dinner and has represented many Redshirts and lese majeste suspects in trial.
"Forty-one years ago, the student movement fought for democracy and asked for a constitution," he said. "Today, we are back to that past. There's no permanent constitution, no election, and we don't know when those things will return."
Arnon said he organised the dinner party to insist on people's right to enjoy their lives normally under the current "stressful situation." He said his group had no intention of engaging in any political activities or protests.
"We just invited people to join us for dinner," Arnon said. "We have no demand or message for the NCPO [an acronym for the junta's National Council for Peace and Order]. We have no agenda."
However, a handful of police cars remained stationed around Democracy Monument with their siren lights on throughout the dinner party, and dozens of police officers – some in plain clothing – watched the group as they ate.
Thai authorities did not however interfere with other activities marking the anniversary of the student uprising, despite the junta's ban on public protests or political seminars. In contrast to several efforts to block recent political academic forums, authorities allowed student activists at Thammasat University, the site of the 1973 uprising, to hold a public seminar yesterday comparing recent student movements in Hong Kong to the 1973 uprising.
Read more:
Military Blocks Academic Panel On Foreign Dictatorships
For comments, or corrections to this article please contact: [email protected]