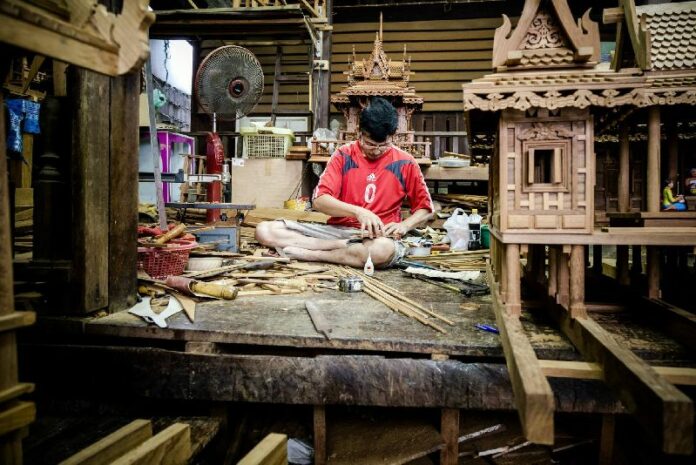 By Gerrit Phil Baumann
Khaosod English photographer Gerrit Phil Baumann visits three historical neighborhoods in Bangkok where spirit houses, silk weavings, and alms bowls are still being made by artisanal craftsmen. As time passes, more and more of these traditional workshops are being replaced by factories. Here are the photos and stories of those who remain.
Ban Fuen in Khlong San district, once known as the spirit house village. Gob and her brother are proud to be the third-generation owners of a spirit house carpentry shop.
The community of Ban Fuen had to reinvent itself after sawmills along the Khlong San banks of the Chao Phraya river closed during World War II. Today, Gob's carpentry benefits from the business's OTOP status, which provides discounts on teak wood from government forestries.
Spirit houses come in all shapes and sizes and are an integral part of many Thai homes. Even though most are mass-produced, prestigious business towers and shopping malls often rely on made-to-order teak houses to please the spirits.
Traditional spirit houses come in pairs. The first element is a temple-like dwelling for the local spirit. In the animist belief system, this guardian spirit (เจ้าที่) is considered the real owner of the space. In order to live or to do business on his land, a Brahmin must perform a rite to ask permission.
The second spirit house is shaped like a traditional wooden Thai house. It is intended to pay respect to earlier generations that lived on the land, who are represented by effigies of "Grandma and Grandpa." These are also often accompanied by "domestic servants."
All parts of the spirit houses are made by hand, like this roof top ornament, and an entire project may take weeks to finish.
Gob believes these tools are unlikely to be passed down to the next generation. Despite a steady demand for artisanal spirit houses, other careers appear to be more attractive to most Thai youth.
Ban Krua in Pathum Wan district. The neighborhood is defined by the Saen Saeb canal, which was originally built to send military supplies for wars fought during the time of Rama I in Cambodia. The campaigns were supported by the Cham people, also known as Khmer Islam, who were granted permission to settle along the canal, which is not far from one of Bangkok's major tourist attractions: the Jim Thompson House.
Uncle Aood, who grew up in Ban Kura tells the story of the changes that Thompson brought to the community.
After World War II, Thompson arrived as a shareholder of the Oriental hotel and found that most of the silk weavers had closed their businesses. He managed to revive the industry until he disppeared under mysterious circumstances in 1967 during a trip to Malaysia.
Uncle Aood sources his silk from farms in Nakhorn Rachasima province. All of the other facilities, from production to factory outlet, are contained within his Bangkok home.
Softened raw silk dries. It is waiting to be colored and processed into fine threads for the loom.
Uncle Aood inspects the silk after coloring.
Uncle Aood's tools may have seen better days, but they still serve their purpose adequately.
Uncle Aood is using the same looms for weaving silk that he used when Jim Thompson was around to check in on the progress of his production.
Ban Baat, Phra Nakhorn district. The "alms bowl village" lies not far from the other end of Saen Saeb canal and is part of the neighborhood along Bangkok's Golden Mount. The community was founded by Burmese migrants in the early Rattanakosin period.
Amorn, an alms bowl smith who grew up in Ban Baat, which quickly specialized in making bowls for monks to receive food donations on their morning alms rounds. Life remained like that until automated production began to replace the neighborhood's traditional shops.
Today only three housholds still produce alms bowls.
All together, nine metal plates make up an alms bowl. With a bit of hammering, the parts are connected and prepared for welding.
The four corner pieces represent the cardinal directions. According to myth, when Buddha lost his alms bowl spirits associated with these directions offered him a replacement.
The shop offers several types of alms bowls. As monks are not allowed to handle money, someone else must come to buy the bowls and donate it to them.
See more of Baumann's work:
Photo Essay: The Gods Among Us At Navaratri Festival
Photo Essay: A Journey Through Bangkok's Amulet Markets
Photo Essay: Blood, Sweat, and Tears From Inside The Muay Thai Ring