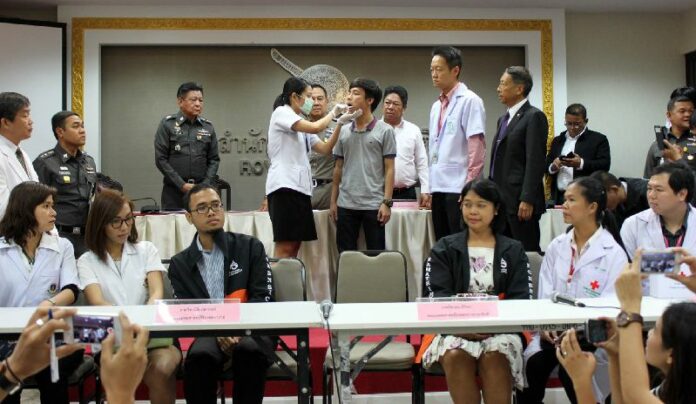 BANGKOK— Police say the first round of forensic results reveal that the son of a village headman on Koh Tao was not behind the murder of two British tourists on the island last month.
Warot Toowichian, 22, provided authorities with a sample of his DNAyesterday in an effort to dispel persistent rumors that he was responsible for the grisly murder of David Miller, 24, and rape and murder of Hannah Witheridge, 23, on 15 September.
Suspicions were raised about Warot, the son of a local administrator on the island, after he was initially considered a suspect in the case, but then swiftly deemed innocent in less than 24 hours.
Warot's father, Woraphan Toowichian, also owns the bar where Miller and Witheridge were last seen and is considered an 'influential figure' on the island.
Today, officials at the Institute of Forensic Science in Bangkok said Warot's DNA did not match the semen found in Witheridge's body. Police are now waiting on results from three other hospitals, which they say should be available by tomorrow.
Thai police have come under heavy scrutiny for their handling of the murder investigation, which was marred early on by a series of blunders and miscommunications with the press. More recently, Thai authorities have been accused of torturing two Burmese migrant workers into confessing to the murder.
The two suspects, Zaw Lin and Win Zaw Htun, recanted their confessions last week and said they were beaten during the police interrogation. Thai authorities have firmly denied torturing the two men or using them as scapegoats.
Yesterday, Thailand's chief of police, Somyot Pumpunmuang, reportedly
threatened
to prosecute anyone who spreads rumours about the murder case with the Computer Crime Act, one of Thailand's toughest laws.
The law, which carries a maximum penalty of five years in prison and a 100,000 baht fine, criminalises any action carried out via a computer system that defames others, transmits pornography, spreads false information, or threatens national security. Critics say its sweeping scope is regularly abused to restrict freedom of speech.