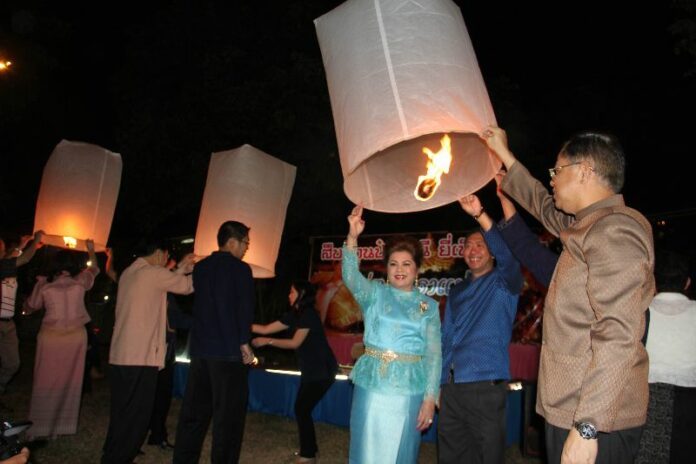 BANGKOK – Thais across the country are launching thousands of lanterns into the sky to celebrate Loy Krathong this week despite pleas from authorities who say the lanterns are hazardous.
Originally a tradition in the far-flung northern parts of Thailand, lighting sky lanterns has become a popular activity for many urban Thais in recent years as part of the annual Loy Krathong festival. The festival also involves floating lit lanterns made of ornate banana leafs on rivers and canals to show respect for the water goddess, Ganga.
As in previous years, authorities have asked the public to follow various laws regulating the launching of the sky lanterns, which they say can cause fires and other damages.
Yesterday, junta leader and Prime Minister Prayuth Chan-ocha asked the public to cooperate with authorities and refrain from unleashing the lanterns in cities and near airports.
"In the past, the tradition of sky lanterns was limited to small number of regions, but it's everywhere these days," Gen. Prayuth said in a press conference. "I don't want to ban them, but please consider when they could disrupt flights and cause other problems. You have fun with those lanterns, but what should those planes do?"
During last year's Loy Krathong festival, authorities documented at least 50 cases of sky lanterns falling on electric poles, and one incident of a lantern burning a shop in Pathum Thani province down to the ground. In 2007, two people were killed when a sky lantern fell on their house in Nonthaburi province while they were sleeping.
Air traffic officials in northern Thailand have also urged locals not to launch lanterns near airports, citing the possibility that a single lantern could bring down a plane.
However, residents in Chiang Rai province's Chom Kitti village – located around 60 kilometres from Mae Fah Luang Airport – say they have chosen to disregard the warning and go ahead with their annual sky lantern competition. Some lanterns produced at Chom Kitti are as large as 13 metres in length.
"We have been following this tradition for more than 40 years. We never had to worry about the flights," said Panuwat Srisuk, the head of Chom Kitti village. "I don't think it will affect anyone."
Last night, when the festival kicked off in some parts of the country, one lantern drifted into southern Bangkok and fell on a car, partially burning the vehicle. Thawatchai Wang-ngam, 52, said he was shocked to discover the damage when he woke up this morning. He estimated that it will take 20 days for the car depot to repair his vehicle.
Police officers in the area say Thawatchai filed a formal complaint, but that they are unlikely find the perpetrators who launched the lantern.
More lanterns are expected to be launched over Bangkok metropolis tonight.
In an attempt to curb the expected wave of sky lanterns over the capital city, Bangkok governor Sukhumbhand Paribatra signed an executive order banning any sale or release of sky lanterns in areas that contain "palaces, temples, historic sites, state agencies, high-rise buildings, large buildings," and districts close to Bangkok's two main airports.
The order will be effective throughout the night of 6 November and early morning of 7 November. Violators of the ban face up to 3 months in prison and 6,000 baht fine.