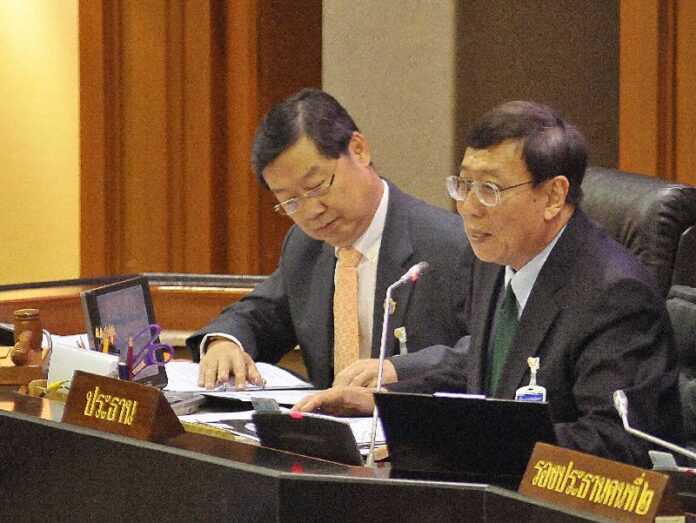 BANGKOK – The National Legislative Assembly (NLA) has voted to consider the impeachment of two former politicians for their attempt to amend the 2007 Constitution to make it more democratic.
The motion, passed by a 87-75 margin after a three-and-half hour secret meeting today, gives the assembly the power to deliberate on the possible impeachment of Somsak Kiatsuranond and Nikom Waiyaratchapanich, who were serving as Parliament and Senate Speakers in 2013, respectively.
Fifteen NLA members abstained from voting, which was done through a secret ballot.
Last April, the ruling Pheu Thai Party attempted to amend the 2007 Constitution last year to make the Senate fully-elected, as opposed to half-appointed and half-elected. The 2007 charter was later dissolved following the 22 May 2014 coup.
The Constitutional Court blocked the amendment in November, calling the effort an "exercise of administrative power that is not allowed under the Constitution."
According to the court, a fully-elected Senate would violate the balance of power and allow political parties to "control the Senate in an absolute manner."
"The Constitution has the intention for the Senate to be an independent agency that filters and scrutinises the exercise of state power," the court said in its ruling. "But the aforementioned amendment …. It will force the nation to regress, by imposing a monopoly and nepotism [over the Senate]."
The National Anti-Corruption Commission (NACC) later requested the Senate impeach Somsak and Nikom for their roles in the effort, citing the court verdict as evidence of their wrongdoing against the nation.
If impeached, the former politicians could be barred from office for up to five years.
After the military junta dissolved the Senate, there was speculation about whether the NLA could take up the impeachment process against the two former politicians. Supporters of Pheu Thai Party have argued that there is no clause in the 2014 Interim Charter that grants the assembly that power.
The NLA is expected to begin deliberating on the possible impeachments on 25 November.