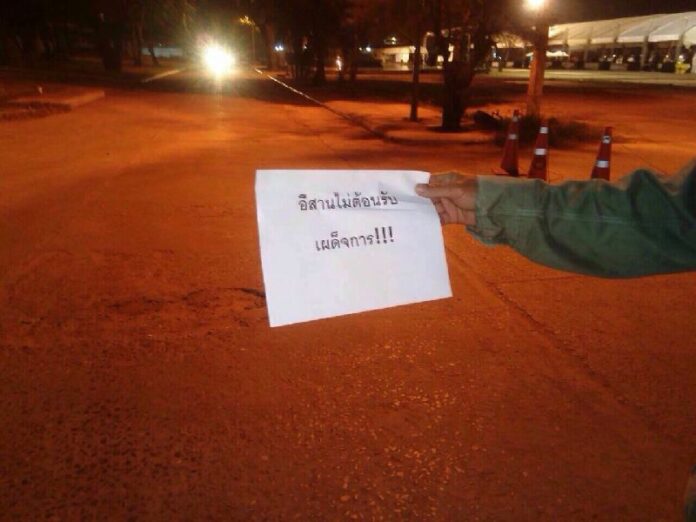 BANGKOK — Five university students are being held in an army camp for flashing an anti-coup hand gesture while Prime Minister and junta chairman Prayuth Chan-ocha was giving a speech in the northeastern province of Khon Kaen this morning.
Gen. Prayuth, who led the 22 May coup, was speaking on a stage when the law students stood up to flash the three-finger salute and reveal black t-shirts that said "we do not accept the coup."
The three-finger salute became a symbol of anti-coup resistance shortly after the military takeover in May, and is said to be inspired by the popular sci-fi book and movie series, The Hunger Games, where it is used to symbolize rebellion against totalitarian rule.
The students were quickly escorted off the premises and taken to a police station in Khon Kaen before they were transferred to an army camp in the province.

The five students were brought to a police station in Khon Kaen before being taken to an army camp, 18 Nov 2014.
"It's okay, we are all Thais," Gen. Prayuth assured the audience while security forces removed the students from the event.
Shortly after seizing power, the junta banned public protests and has since sent violators to face trial in military court, where appeals are not permitted.
The male law students currently in military custody are all members of the Dao Din student activist group at Khon Kaen University.
The group released a statement today in which they declared their opposition to the coup and Gen. Prayuth's leadership, Prachatai Englishreported.
"We will not take any order or policy that comes from the dictatorship government," the statement reads. "We are asking Gen. Prayuth Chan-Ocha to lift the martial law, which is causing problems for people throughout the country who are not able to express their opinions, which is adestruction of the fundamental human rights that people should have."
Today marked Gen. Prayuth's first visit as the country's Prime Minister to northeastern Thailand, the heartland of the political faction known as the Redshirts that supported the government he toppled in the 22 May coup.
This morning, flyers were scattered around the city centre bearing the text, "Isaan doesn't welcome dictators," using the Thai name for the northeast region.
In the wake of the coup, the junta has cracked down on Redshirt networks by briefly detaining hundreds of politicians, activists, and academics perceived to be sympathetic to the former government. Most detainees have been forced to sign agreements not to participate in any political activities as a condition of their release.
In late May, the military arrested 22 people in Khon Kaen and accused them of plotting an armed insurrection against the junta in an operation known as the "Khon Kaen model."
For comments, or corrections to this article please contact: [email protected]
You can also find Khaosod English on Twitter and Facebook
http://twitter.com/KhaosodEnglish
http://www.facebook.com/KhaosodEnglish