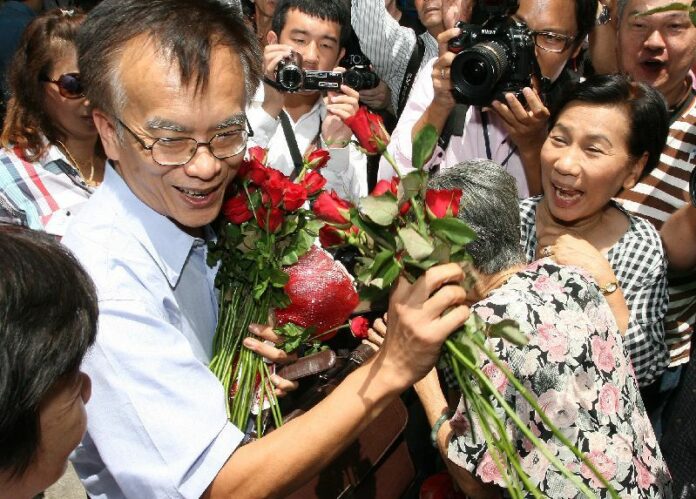 BANGKOK – A Thai historian wanted by the military junta for criticising the monarchy spoke out for first time on Saturday since he went into hiding six months ago.
Somsak Jeamteerasakul, a 56-year-old professor who taught political history at Thammasat University, wrote on his Facebook account early Saturday morning that he is alive and well at an undisclosed location.
"I thank all of you who sent (hundreds of) messages to my inbox. There are so many. I fear I cannot answer each of them personally, so I have to express my thanks here," Somsak wrote. "I have been away for six months. There are so many issues I want to discuss with all of you. I will have to write about them bit by bit."
Somsak is a rare outspoken critic of the monarchy in Thailand, where offending the Royal Family is a crime punishable by up to 15 years in prison.
In February, the spokesperson of the Royal Thai Army publicly threatened to press lese majeste (insulting the monarchy) charges and an unspecified "social measure" against Somsak if he did not stop writing critically about the Royal Family on his Facebook.
"The army would like to call on every sector to keep careful watch, in order to prevent anyone from slandering or insulting our beloved monarchy," said the spokesperson, Col. Winthai Suwaree.
A week later, masked gunmen sprayed bullets across Somsak's residence in a Bangkok suburb, drawing condemnation from a number of academics who accused the army of intimidating the historian. Somsak was at home when the incident took place but was not injured, though he told the press that one bullet missed his head "by inches."
After Gen. Prayuth Chan-ocha, then-chief of the Thai army, staged a military coup on 22 May 2014, the junta summoned Somsak and hundreds of other academics, activists, and politicians for "attitude adjustment." Somsak did not comply, prompting the military court to issue an arrest warrant for him.
Somsak, who commands a cult following among progressive Thais, refrained from posting any comments social media for the next six months after the coup. His silence has been a source of anxiety for many Thai activists, who feared he was captured and held incommunicado by Thai authorities.
The Facebook post confirming his well-being on 22 November – exactly six months after the junta took power – has been received enthusiastically by his supporters.
On the same day, students at Suankularb Witthayalai School, where Somsak studied during his high school years, paid tribute to the historian's announcement by organising a card stunt that resembled him during a football match against a rival school.
In the mass card stunt, students juxtaposed Somsak's face with that of Veera Somkwamkid, an ultra-conservative activist who also graduated from Suankularb Witthayalai.
Although Somsak did not specify his current whereabouts, he did publish a photo, presumably taken by himself, of a building on 9 Rue Du Sommerard in Paris where a group of overseas Thai revolutionaries met secretly in 1929 and plotted to overthrow the absolute monarchy in Thailand.
Several close aides of Somsak also confirmed privately to Khaosod English that Somsak is living in exile in a "Western country."
After re-emerging on Facebook on Saturday, Somsak also published series of analyses about the 22 May 2014 coup, the Thai monarchy, and his thoughts on the current state of the Redshirt movement.
His comments forced the spokesperson of the Thai military junta, Col. Winthai Suwaree, to say at a press conference today that Somsak should not discredit himself by airing "unsubstantiated" remarks about the monarchy.
"Some matters are delicate," Col. Winthai said. "He should refrain from using defamatory words or using feeling to criticise another individual or organisation. It may affect his professional credibility."
Since staging the coup on 22 May 2014, the military junta has stepped up efforts to prosecute perceived "threats" to the monarchy.
In an address to parliament as Prime Minister on 12 September, Gen. Prayuth decreed, "We will use legal measures, social-psychological measures, and telecommunications and information technology to deal with those who are not mindful of their words, are arrogant at heart, or harbour ill intentions to undermine the important Institution of the nation."
For comments, or corrections to this article please contact: [email protected]
You can also find Khaosod English on Twitter and Facebook
http://twitter.com/KhaosodEnglish
http://www.facebook.com/KhaosodEnglish