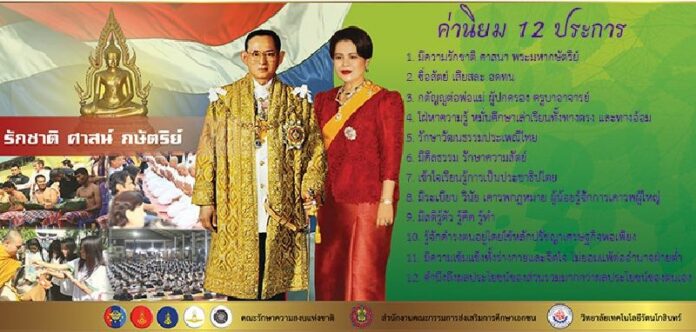 BANGKOK – A top education official has claimed that psychological research is being conducted to persuade Thai students to live their lives in accordance with the teachings of the leader of Thailand's military junta.
According to Sutthasri Wongsaman, permanent secretary of the Ministry of Education, the Ministry is working closely with the National Research Commission of Thailand (NRCT) to better promote a "practical adoption" of the "Twelve Values," a series of morals that Gen. Prayuth Chan-ocha, chairman of the military junta, says all Thais should adopt.
The research is aimed at students in schools and colleges across the country, Sutthasri said yesterday.
"Previous research by the NRCT discovers that, to alter the behaviour of humans, memorising text or singing isn't enough," Sutthasri said. "It also requires a practical adoption, so we can teach children and youths to know about their duty under the democratic principle [sic]."
Sutthasri added that she wants to see "the concepts of the Twelve Values really reaching the students." However, she did not elaborate further about the nature or scope of the research
Gen. Prayuth unveiled the "Twelve Values" during one of his televised addresses in July, two months after he seized power from the elected government on 22 May 2014 and imposed martial law over the entire country.
The "Twelve Values" are as follows:
1. Loyalty to the Nation, the Religion, and the Monarchy
2. Honesty, sacrifice, endurance, and noble ideology for the greater good
3. Gratitude for parents, guardians, and teachers
4. Diligence in acquiring knowledge, via school studies and other methods
5. Preserving the Thai customs and tradition
6. Morality and good will for others
7. Correct understanding of democracy with the King as Head of State
8. Discipline, respect for law, and obedience to the older citizens
9. Constant consciousness to practice good deeds all the time, as taught by His Majesty the King
10. Practice of Self-Sufficient Economy in accordance with the teaching of His Majesty the King
11. Physical and mental strength. Refusal to surrender to religious sins.
12. Uphold the interest of the nation over oneself.
Gen. Prayuth's teachings have been promoted extensively by the state media. In the past months, Thai authorities have produced a pop song and poetic renditions of the Twelve Values, while a film based on the values is expected to hit the theaters on 6 December.
To ensure that all Thais will take the Twelve Values to heart, authorities have also instructed public schools and state agencies to hang banners listing Gen. Prayuth's words of wisdom on their premises.
Sutthasri, the education official, also told reporters yesterday that the military junta has instructed state universities across the nation to curb anti-coup demonstrations to comply with the junta's ban on any public protest against its regime.
For comments, or corrections to this article please contact: [email protected]
You can also find Khaosod English on Twitter and Facebook
http://twitter.com/KhaosodEnglish
http://www.facebook.com/KhaosodEnglish