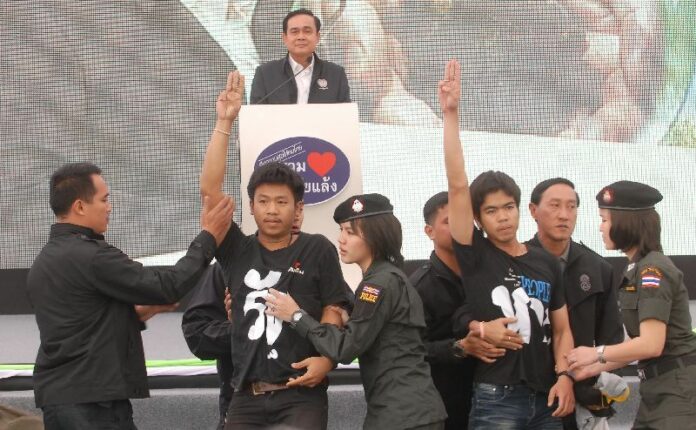 BANGKOK – A high-ranking army commander has insisted that student activists who staged a flash protest in front of Thailand's military ruler last month were paid to disrupt the event by politicians.
"Some student groups have connections to political groups," said Lt.Gen. Kampanat Ruddit, commander of the 1st Region Army.
"For example, the Khon Kaen students," he said, referring to the five student activists who interrupted a speech by Prime Minister and junta chairman Prayuth Chan-ocha in Khon Kaen province on 19 November to raise the "three-finger salute." Security officers promptly detained the five students for flashing the anti-coup gesture, which is banned under the junta's rule.
"My intelligence units have told me that they were paid to compete for space in the media with the Prime Minister," Lt.Gen. Kampanat was quoted as saying by Matichon today. "They were paid for about 50,000 baht by certain politicians in the region."

Student activists in Khon Kaen interrupt PM Prayuth Chan-ocha on 19 November to flash an anti-coup salute.
He did not provide any further evidence to back up the assertion, which was not the first unsubstantiated and bizarre allegation the Thai military has made regarding the anti-coup movement. In late May, the military claimed that an "impostor" hi-jacked an army jeep near an anti-coup protest in Bangkok and used it to denounce protesters as "scums."
Lt.Gen. Kampanat also dismissed calls from human rights organisations to repeal martial law, which the junta imposed over the entire nation in May 2014. According to Lt.Gen. Kampanat, security officers need the law to respond to any anti-coup protests quickly.
"Furthermore, the martial law is not dangerous to good people at all," Lt.Gen. Kampanat said.