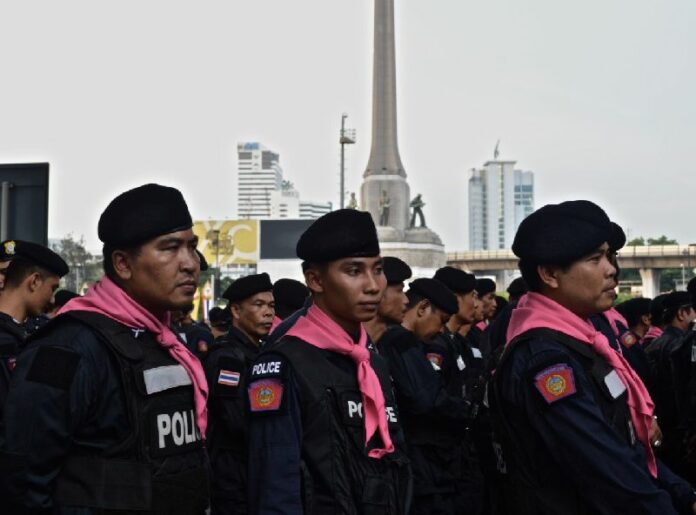 BANGKOK — The reform effort spearheaded by Thailand's military junta is likely to bring about more conflict in Thailand, predicts a new report by International Crisis Group.
In "A Coup Ordained? Thailand's Prospects for Stability," the Belgium-based non-profit lists several factors that suggest the possibility of future political violence stemming from the 22 May coup and the military junta's governing policies.
"The coup and perceptions of a biased reform process may contribute to a sense of desperation among those who feel they have been deprived of their rights," the report says. "There is a risk that dissent driven underground will erupt in confrontation."

Riot police stationed at an anti-coup rally by Bangkok's Victory Monument in May, 2014.
Since seizing power, Thailand's military junta, formally known as the National Council for Peace and Order (NCPO), has suspended democracy and civil liberties to pursue a year-long reform effort, banned public protests and political activities of any kind, and used intimidation tactics to muffle the press.
According to the ICG report, these moves call into question the NCPO's stated aim of re-establishing democracy once the "reforms" are completed. The report also predicts that the new charter, which is currently being drafted by a junta-appointed council, is likely to "heavily" restrict the powers of elected officials.
"It is far from certain that the electorate will quietly accept such a diminished status," the report says.
Although the 22 May coup was initially met with small-scale anti-coup rallies in several cities across Thailand, the resistance movement quickly fizzled out after the junta began to strictly enforce its ban on public gatherings and send violators to face trial in military court.
The anti-coup movement's washout has also been attributed to the early arrest of top leaders like Sombat Boonngarm-anong, and the silence of other prominent Redshirt figures, many of whom fled the country shortly after the coup.
However, in the past month there has been a small uptick in coup defiance organized by student activists. In November, five students in Khon Kaen province were briefly detained for flashing an anti-coup gesture while coup-leader turned Prime Minister Gen. Prayuth Chan-ocha was giving a speech.
A handful of student activists in Bangkok have also been routinely arrested for staging anti-coup activities.
"Like the 1991 and 2006 coups, that of 2014 did not provoke an immediate violent backlash," the ICG report reads. "But both earlier coups eventually resulted in deadly confrontations between troops and protesters. The current build-up of pressures suggests that past may prove to be prologue."