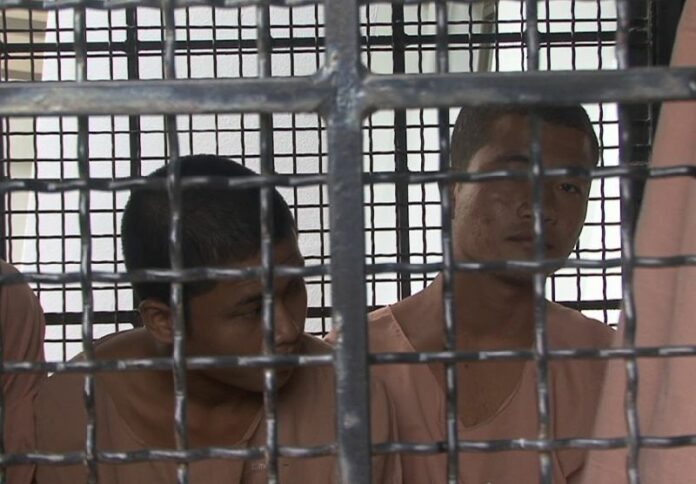 SURAT THANI – The trial of the two Burmese migrant workers accused of murdering two British backpackers in September has been set for 25 February 2015, after the two suspects plead not guilty in court today.
The suspects, Zaw Lin and Win Phyo, were formally charged last Thursday with murdering David Miller, and raping and murdering Hannah Witheridge on the popular island of Koh Tao on 15 September.
Zaw and Win are also facing charges of illegally entering the Kingdom of Thailand, residing in Thailand without permission, and nighttime theft for allegedly stealing Miller's mobile phone and sunglasses.
Zaw and Win, both 21, plead not guilty in front of a judge at Koh Samui Court today. Upon hearing their plea, Judge Sunawin Suriyapan scheduled a preliminary evidence examination for 26 December, and said the formal trial would begin on 25 February of next year.
The pair's defence lawyer, Nakhon Chomphuchart, said he would do his best to represent the suspects in the court, and expressed hope that the Thai justice system will "give fairness" to the two men.
"The charges brought against them by the prosecutor are very serious," Nakhon said, noting that if found guilty, his clients will most likely face death penalty.
Zaw and Win have been held at Koh Samui Prison since they were arrested in October. A high-ranking official from the Embassy of Myanmar in Bangkok said the embassy will petition the Thai court to grant the suspects release on bail.
Police initially said the two men confessed to the crimes, but Zaw and Win later recanted their confession, which they say was obtained under duress. Thai police have denied the allegation.
Numerous human rights groups, including Amnesty International, have criticsed Thai police's handling of the investigation and raised concerns that the two men are scapegoats.
In October, the United Kingdom dispatched a team of British police to Koh Tao to oversee Thai police's investigation. The British detectives have reportedly briefed the families of Miller and Witheridge on what they found, though their report has yet to be released to the public.
Last Friday, the victim's families released statements expressing confidence in police's work.
"We would like to stress that as a family we are confident in the work that has been carried out into these atrocious crimes and want to remind both press and public that they do not have the full facts to report and make comment on at this stage," Witheridge's family said in a statement.
Miller's family said: "The support for the Myanmar suspects has been strong and vocal, but please do not jump to conclusions until you have considered the evidence from both sides in full."