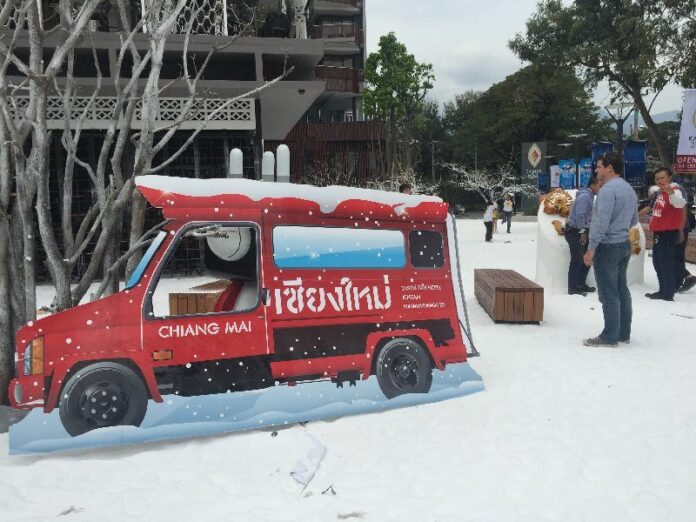 CHIANG MAI – Officials in Chiang Mai are investigating whether 40 tonnes of refined salt used to imitate snow at a PR stunt will cause environmental damage in the region.
The massive pile of salt was a part of the two-week 'Nimman Snow Festival' at Eastin Tan hotel on Nimman Hemin Road that started on 20 December. Green tea and restaurant tycoon Tan Passakornnatee organised the event and made an appearance at the festival over the weekend.
However, some residents in Chiang Mai province started to raise concerns over safety and environmental impact of the fake snow, especially when it emerged that a large portion of the refined salt had drifted to nearby roads and drains.
Officials from the Ministry of Public Health and local administrative organisations arrived at the event site yesterday and took samples of the salt. State employees also inspected drains and water source around the hotel's Think Park for any possible contamination or blockage.
Jongklai Worapongsathorn, director of Chiang Mai's provincial office of the Ministry of National Resource and Environment, told reporters that Tan did not notify or seek permission from any relevant agency before he launched the "snow festival." He said it is too early to say if the 40 tonnes of salt have damaged the city's environment.
"We will determine whether the salt has contaminated any water source," Jongklai said. "As for the drain system, the Chiang Mai Municipal Office has informed as that much of the water flows to a public drain pipe, but we are still checking where it will lead to. We are waiting for the Municipal Office to inspect it with us."
In response to numerous complaints on the Facebook page promoting the event, Tan posted a photo of workers cleaning up the fake snow around the festival site. He also published a note assuring readers that refined salt is perfectly safe for human beings because it is used in one of the commercials for his green tea brand.
"I thank the people of Chiang Mai for their interest and visiting our festival in such a large number that exceeds our expectation, which led to several flaws in the control and maintenance of cleanliness in the area," Tan wrote. "I am deeply sorry for the inconvenience that has happened. I assure you that our crew will quickly finish the clean-up and make sure that [the fake snow] won't disturb public spaces in the future."
Green tea tycoon Tan Passakornnatee at the "Nimman Snow Festival," 21 December 2014 (Photo from his Facebook page)
Tan also promised that all of the salt in the festival will be sent to shrimp farms and other industries for future uses.
However, Paisal Thanyawinich, the official in charge of the Ministry of Public Health's operation in Chiang Mai province, disputed Tan's assertion that refined salt is safe for humans, as its vapour can cause irritation in the lungs if inhaled for more than one hour.
Those with medical conditions like asthma or high blood pressure should also avoid the fake snow, Paisal said in a statement released to the press.
The controversy is a rare public backlash against Tan, who is generally seen as a marketing genius. Tan pioneered the business model of Japanese buffet restaurants and popularised bottled green tea in Thailand, and he frequently uses his personality as a main feature in advertisements for his products.
Tan's empire of restaurants, green tea brands, hotels, photo studios, and other estates are worth more than 5 billion baht, according to a report by Isra News.
Officials in Chiang Mai did not say whether they will bring any lawsuits against Tan if it is proven that his PR stunt has caused damage to the city.
For comments, or corrections to this article please contact: [email protected]