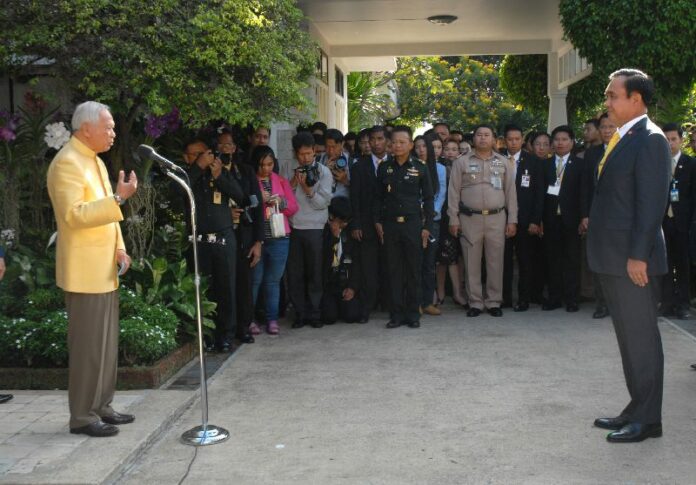 BANGKOK — The top adviser to His Majesty the King has praised the 2014 military coup as a necessary intervention that saved Thailand from descending into chaos.
Gen. Prem Tinsulanonda, the 94-year-old chairman of the Privy Council, made the comments this morning while coupmaker and Prime Minister Prayuth Chan-ocha was visiting him at his official residence in Bangkok.
Prem, who led Thailand as the Prime Minister from 1980 to 1988, is considered an extremely influential figure among the palace circle and the military due to his position as a personal adviser to King Bhumibol.
His praise of the 2014 coup is therefore considered the most high-profile endorsement of the military takeover so far.
'We will always step in'
Speaking to Gen. Prayuth and his entourage, the Privy Councilor said Thai people are "very proud" of what the military did on 22 May 2014. He called the takeover an act "that restored peace and order to the country."
"That day shows that the military and the army … came out to do the action when necessary. They came out to take care of the country. We must be proud of all the actions we have done," Gen. Prem told his audience. "The 22 May [coup] was a noble action. It's like repaying a debt to the country. It's a great display of loyalty. I think most Thais agree, accept, and feel proud of Prime Minister Uncle Too [Prayuth's nickname] 's action."
Gen. Prem continued, "Uncle Too has rescued the nation and brought peace to all Thais. We have done the action, and will continue to do so. I want to tell all of you that this opportunity is an important one. It is the opportunity that shows that when the nation is in crisis, when there is no reconciliation, we will always step in and take care of it. That is our duty.
"We have come out. We cannot retreat. We have to keep pushing forward with valour and bravery. We will move forward like gentlemen. We will move forward as the true Thais. We will move forward for the sake of our children. It is a good opportunity to show that we will not abandon our brethren to their suffering.
"I know that all of you [Gen. Prayuth and his government] are tired. We are all tired. But we are tired for the sake of the nation, for His Majesty the King, and for all Thais. These things will relieve us from the exhaustion and lift our spirits to fight for everything.
"I'd like to ask all members of the armed forces to give their support to our dear Prime Minister and the government, who are working for the country. Because we are friends and comrades who have sworn to die for each other, we have to help take care of each other."
Gen. Prem then concluded his speech by bestowing a blessing from His Majesty the King upon the military junta, which is officially known as the National Council for Peace and Order (NCPO).
"I hope that everyone will help take care of this country," Gen. Prem said. "And I wish that all goals of the NCPO and the government will be achieved."
Gen. Prayuth said he was compelled to seize power on 22 May in order prevent anti-government protests from spiralling out of control. The junta leader has promised to hold a new election after implementing a series of reforms and and achieving "national reconciliation."
The general has drawn criticism from many human rights groups for his zero-tolerance of dissent. Since the military takeover, Gen. Prayuth has banned political activities, outlawed public protests, intimidated the media, and ordered the brief detention of hundreds of politicians, activists, and academics deemed sympathetic to the former government.
Invisible hand
Gen. Prem survived numerous coup attempts and is regarded as one of the most adept politicians in Thailand's modern history. Gen. Prem has served as HM the King's chief aide since 1988, after he agreed to step aside from the premiership following the 1988 general election.
Although Thailand's Constitutions do not permit Privy Councilors to express support for any political faction, Gen. Prem made many remarks that are favourable of Thailand's pro-establishment factions and suggest a skepticism of elected governments.
Speaking to military cadets during the height of anti-Thaksin protests in July 2006, Gen. Prem described the military as a horse owned by His Majesty the King, and Mr. Thaksin as the "jockey" appointed to look after it.
The speech led Mr. Thaksin to lash out at Gen. Prem and call him"an invisible hand" who was plotting to overthrow his government.
Two months later, the military toppled Mr. Thaksin in a coup. Gen. Prem accompanied the coup makers as they met with His Majesty the King to brief him on the takeover. When Abhisit Vejjajiva, head of the anti-Thaksin Democrat Party, assumed the premiership in December 2008, Gen. Prem told reporters he personally supported Mr. Abhisit as a Prime Minister.
Gen. Prem's perceived alliance with anti-Thaksin forces has spurred leaders of the pro-Thaksin Redshirt movement to attack the Privy Councilor in speeches and rallies over the past years, including a demonstration right outside Gen. Prem's residence in April 2009 that ended in a military crackdown ordered by the Abhisit administration.
Thailand's lese majeste law, which criminalises defaming the monarchy, has been interpreted by the court to cover Gen. Prem as well. In August 2013 the court jailed a Redshirt activist to 3 years in prison for burning a mock coffin inscribed with Gen. Prem's name. The court ruled that such a gesture defamed His Majesty the King.
For comments, or corrections to this article please contact: [email protected]
You can also find Khaosod English on Twitter and Facebook
http://twitter.com/KhaosodEnglish
http://www.facebook.com/KhaosodEnglish