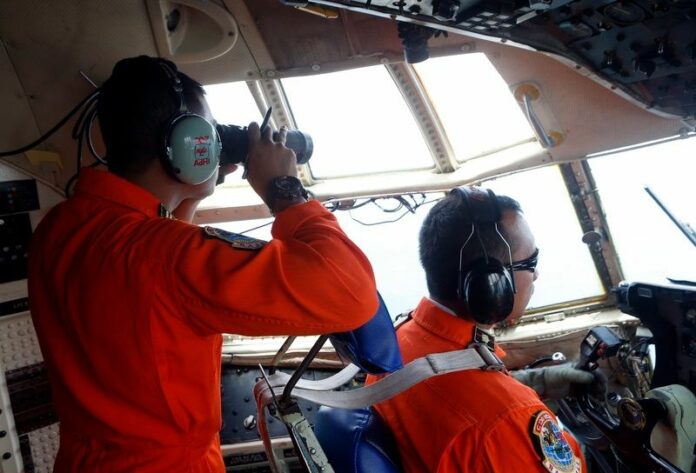 Jakarta (dpa) – Floating debris, a possible fuselage, and several bodies were spotted Tuesday by rescuers searching for an AirAsia plane with 162 people on board, as officials said they were nearly certain they had found the remains of flight QZ8501.
Local television reported that six bodies were found and at least three of them had been retrieved from waters about 100 nautical miles south-west of Pangkalan Bun in Central Kalimantan province.
"I can say with 95 per cent certainty that debris and objects spotted in the sea are from the aircraft," search and rescue chief Bambang Sulistyo told reporters.
Objects spotted included some believed to be a life vest, a seat and an emergency slide, officials said.
AirAsia Indonesia flight QZ8501 disappeared from radar over the Java Sea after taking off from Surabaya in Indonesia's East Java province en route to Singapore on Sunday morning.
Rescue chief Bambang also said an Indonesian Air Force aircraft spotted an object under the sea in the shape of an aircraft off the coast of Borneo island.
Local Air Force commander Dwi Putranto said the debris was found about 10 kilometres from the plane's last known location.
"My heart is filled with sadness for all the families involved in QZ 8501," AirAsia chief executive Tony Fernandes said in a tweet posted after the discovery of the debris and bodies.
"On behalf of AirAsia my condolences to all," he said. "Words cannot express how sorry I am."
Relatives of the passengers who had gathered at Juanda Airport in Surabaya, Indonesia's second largest city, broke down after hearing the news, television images showed.
Some fainted and were rushed to a nearby clinic.
Surabaya Mayor Tri Rismaharini was seen trying to console the weeping relatives of the passengers.
The search was expanded Tuesday, with more aircraft and ships scouring a wider area, after operations on Tuesday yielded no positive results.
The Airbus A320-200 last made contact with air traffic control in Jakarta to request permission to ascend to an altitude of 38,000 feet from 32,000 feet to avoid bad weather, said Wahyu Daryono, director for safety at Airnav Indonesia, the state-owned company that provides air navigation services.
Traffic control did not immediately approve the request because other aircraft were in the way, but when it contacted the plane a few minutes later to tell the pilots that they could ascend to 34,000 feet, there was no response, Wisnu said.
AirAsia said 155 of the people on board were Indonesians. The others included three from South Korea, and one each from Singapore, Malaysia, France and Britain.
The company said the pilot, an Indonesian named Iriyanto, had 20,537 flying hours, 6,100 of them logged with AirAsia. The co-pilot was a French national with 2,275 flying hours.
On Monday Fernandes defended AirAsia's safety record, saying it has carried 220 million passengers in 13 years and never lost a life before.
The AirAsia flight's disappearance is the third air travel disaster this year linked to Malaysia.
Malaysia Airlines flight MH370 carrying 239 people vanished almost without a trace on March 8, one hour after departing Kuala Lumpur for Beijing.
On July 17, Malaysia Airlines flight MH17 went down over rebel-held territory in eastern Ukraine, killing all 298 passengers and crew on board the flight from Amsterdam to Kuala Lumpur.
Indonesia has experienced several fatal air accidents in the past decade.
It took Indonesian searchers 10 days to start finding debris from an Adam Air jet that crashed into the sea off Makassar in South Sulawesi in January 2007, killing all 102 people on board.
For comments, or corrections to this article please contact: [email protected]