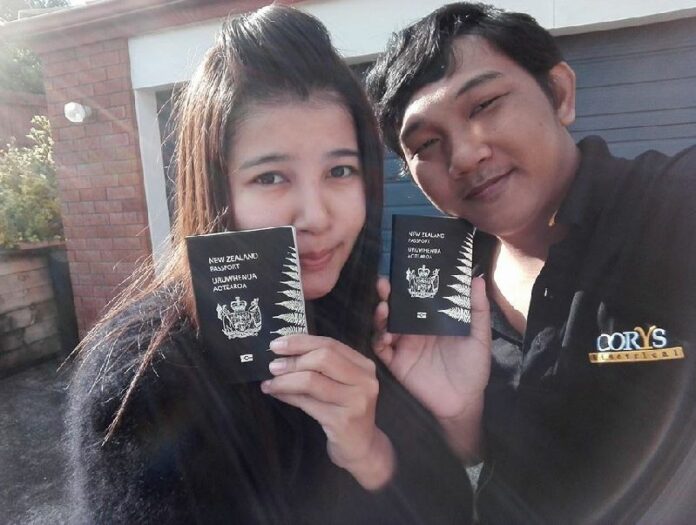 BANGKOK — Thailand's military government has asked New Zealand authorities to confirm whether a 23-year-old Thai charged with lese majeste has been granted asylum there.
Sek Wannamethee, spokesperson of the Thai Ministry of Foreign Affairs (MFA), said he summoned the Charge d'Affaires of the New Zealand Embassy in Bangkok to seek clarification about Ekapop Luara's claim that he and his partner have been granted political asylum in New Zealand.
Ekapop, 23, was charged with insulting the Thai monarchy for a speech he made at a Redshirt rally in late 2013. He is believed to have fled Thailand shortly after the military seized power from the elected government on 22 May 2014.
Last month Ekapop claimed on his Facebook account that he and his girlfriend were granted asylum in New Zealand. He also posted a photo of a New Zealand passport that he said was given to him by New Zealand authorities, and wrote that he had been hiding in Cambodia and the Philippines prior to New Zealand.
"The Thai Ministry of Foreign Affairs expressed its deep concern over the matter to the New Zealand representatives," MFA spokesperson Sek told reporters yesterday. "Mr. Ekapop is using his status granted by the New Zealand government to engage in political matters that affect the national security of Thailand, at a time when Thailand is moving forward and seeking a national reconciliation."
Since he announced his alleged asylum status in New Zealand, Ekapop has been criticising Thailand's military junta and mocking its effort to extradite him and other lese majeste suspects.
According to Sek, the New Zealand Charge d'Affaires said he would seek information from New Zealand's immigration agency about whether Ekapop has indeed been granted political asylum.
The New Zealand Embassy in Bangkok had not responded to Khaosod English's requests for comment at the time of publication.
"This matter is not a good thing for Thai – New Zealand relations," Sek said. "Therefore, Thailand is waiting for clarification from the New Zealand authorities about the status of Mr. Ekapop. We have also urged New Zealand officials to consider appropriate measures to put an end to Ekapop's activities that violate the Thai laws."
When asked about how Thai authorities will respond if it is confirmed that Ekapop has been granted asylum, Sek said he hopes the New Zealand government will not allow anyone who violates Thai laws to use its country as a base for political activities.
"We have to wait for explanation from the New Zealand Ambassador before we proceed with any action," Sek added.
Criticising the monarchy is punishable by up to 15 years in prison under Section 112 of Thai Criminal Codes, a law known as lese majeste. Although the letter of the law only criminalises defaming the King, Queen, Heir Apparent, and Regent, in practice it is used to stifle any discussion that touches on the Thai monarchy.
Since staging a coup on 22 May 2014, junta leader and Prime Minister Prayuth Chan-ocha has stepped up prosecution of lese majeste suspects. Gen. Prayuth, considered a hardline royalist, has also granted military courts – where appeals are not permitted – jurisdiction over lese majeste cases.
Among those currently facing prosecution are two theatre activists who were accused by the military of insulting the Royal Family by staging a play about a fictional monarch in October 2013. The two activists have been held in prison since they were arrested last August, with the court repeatedly denying their requests for release on bail.
The growing persecution has forced a number of activists and academics to flee Thailand and seek asylum in foreign countries. Apart from Ekapop, other notable exiles include transgender activist Saran Chuichai and historian Somsak Jeamteerasakul, who say they are living in France, as well as Pavin Chachavalpongpun, a political science scholar who lives in Japan.