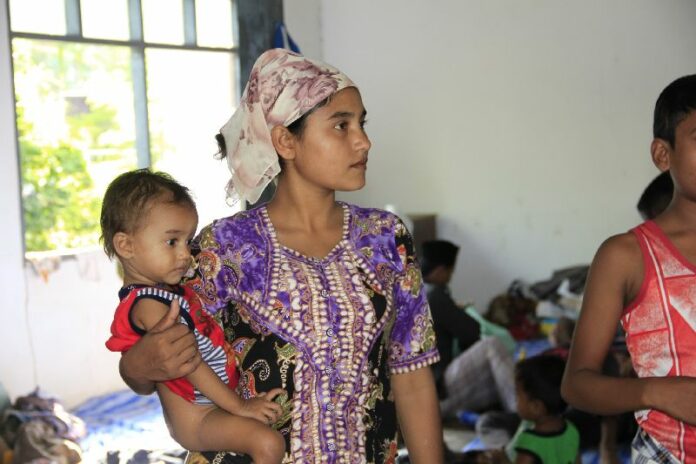 NAKHON SI THAMMARAT — Two Thai men have been arrested for allegedly trafficking nearly 400 Rohingya into southern Thailand.
Police charged Sawasdi Phadungchart, 27, and Sutthipong Chuaipattana, 49, with human trafficking after the pair was intercepted in Nakhon Sri Thammarat province with 98 Rohingya, many of whom were children, crammed into the back of several pickup trucks.

Dozens of the 98 Rohingya intercepted in Thailand on 11 Jan 2015 are children.
Three other Thais suspected of participating in the operation managed to flee before police could detain them.
Police say they believe the two men in custody have facilitated the smuggling of "nearly 400" Rohingya, a persecuted Muslim minority from western Myanmar, into Thai territories.
If found guilty, the suspects could face up to 15 years in prison.
"We have found evidence implicating major businessmen behind this operation, and we also discovered that nearly 400 Rohingya were being trafficked by these smugglers," said Pol.Maj.Gen. Somchai Uamthanorm, deputy commander of 8th Region Police. "Ninety-eight of them were [intercepted] at Hua Sai, but the rest already slipped to Songkhla province."
Officers from the Division of Special Investigation (DSI) arrived in Nakhon Si Thammarat province yesterday to assist with the investigation.
A DSI agent told reporters he believes "at least two businessmen" were involved in the trafficking of these Rohingya. He added that the Anti-Money Laundering Office (AMLO) is already trying to trace the money trail of the suspected ringleaders.
Sutthipong and Sawasdi, the two arrested drivers, reportedly told police they were paid 4,500 baht for each Rohingya they smuggled into Thailand.
A police officer at Hua Sai Police Station said the two suspects are "fully cooperating with the police," and have provided useful information.
"We are learning about evidence and connections to the ringleaders and coordinators [from the two suspects]. We will issue arrest warrants on them soon," the officer told reporters.
Three of the 98 Rohingya have died since they were found in Hua Sai. One woman was found crushed to death at the scene, and two men died in police custody, one from dehydration and another from an infection.
The refugees are now being held at a shelter in Hua Sai district. Officials say they have been improving the facility by installing toilets and lighting, and fumigating the area to kill mosquitoes.
Peerasak Hinmueanggao, Governor of Nakhon Si Thammarat, said he is deeply saddened by the poor condition the Rohingyas were found in.
"The legal prosecution has to go on according to the laws, but humanitarian assistance is the priority," Peerasak said yesterday.
As a part of legal procedure, police say they are currently "categorizing" the Rohingya based on whether they left Myanmar voluntarily. According to police, some of them left their homes on their own accord while others were "coerced" by the smugglers.
Police say that interpreters, Muslim clerics, and representatives of Rohingya advocacy groups have been allowed to visit the refugees at the shelter.
Many Rohingya hail from the Rakhine state of Myanmar, where they are treated as second-class citizens by the predominantly Buddhist local population.
Waves of religious and ethnic violence in Rakhine have driven tens of thousands of Rohingya to flee their homes by boats and other means in recent years. It is believed that up to 140,000 Rohingya have been displaced by the anti-Rohingya violence.
The Myanmar government refuses to recognize the Rohingya as citizens, claiming that they are from Bangladesh, while Bangladeshi authorities also refuse to grant the group citizenship, effectively making them a "stateless" people.
Reports by human rights groups and foreign media agencies have revealed instances of Thai smugglers exploiting the plight of the Rohingya by charging them exuberant fees in exchange for promises of a safe passage to another country.
In addition, many Rohingya never make it to their final destination, often set as Malaysia, because they are held for ransom in Thailand or sold as slaves to boats in the Thai fishing industry.
In 2014, the United States downgraded Thailand to the lowest rank in its annual report on human trafficking, noting that Thai authorities have failed to provide adequate protection to the Rohingya, despite repeated recommendations.
The report also alleged that some members of the Thai police and military have participated in the trafficking of the Rohingya refugees.
On Monday, Thai officials

said

they are working on a

series of reforms to address human trafficking and forced labour in the fishing industry.