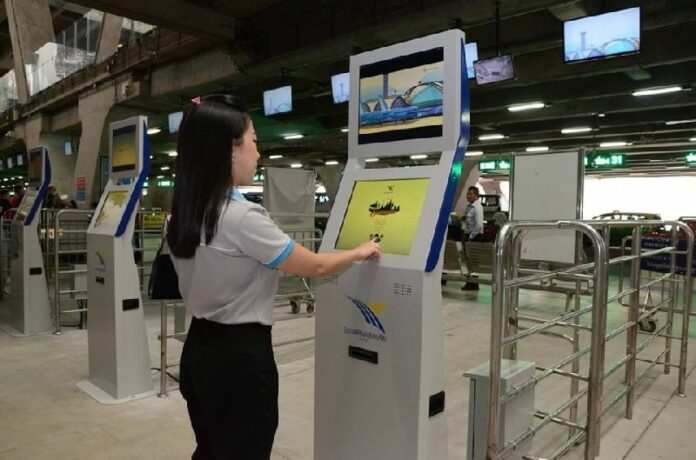 BANGKOK — A taxi driver has been suspended from picking up passengers at Bangkok's international airport after a Japanese tourist's complaint about the driver's refusal to use a meter went viral on social media.
Koki Aki posted on Facebook, in Japanese and Thai, on Sunday that the cab driver assigned to him at Suvarnabhumi Airport refused to use a meter and demanded a flat-rate of 700 baht for a ride to Saphan Kwai district in Bangkok.
Aware that a usual fare for the trip would not cost more than 350 baht, Koki reportedly asked the driver to use the meter, but the driver refused. Koki said he complained to the staff managing the airport's taxi kiosk system, but was told that it was normal for passengers to negotiate fares with drivers for a long distance trip.
Airport staff say they instructed Aki to file a formal complaint, but that he declined to do so. However, Aki wrote in his Facebook post that it was he who requested to file a complaint, only to be ignored by the staff who "acted like they don't care about my concern and don't want to do their job."
"This is the international airport of Thailand, and this is the place to take cabs from the airport, but there are even scams here," Aki wrote. "They don't care about the passengers at all. What can we foreigners do?"
Aki's complaint came at a time when many Bangkokians have been airing grievances about taxi drivers who refuse to pick up them up in downtown Bangkok, preferring to take tourists who can be duped into paying extortionate fares. Tapping into this grief, Aki's Facebook status soon went viral on Thai social media accounts, garnering more than 15,500 "shares."
Prapon Pattamakijsakul, the director of Suvarnabhumi Airport, said he has already launched an investigation into the incident and punished the taxi driver who tried to overcharge the Japanese tourist.
According to Prapon, the driver, Chaiyan Charoensopha, has been stripped of his license to pick up passengers at Suvarnabhumi Airport's taxi queue, in accordance with the airport's regulation and penalty codes.
"Taxi drivers must always use their meters in their service," Prapon said, adding that passengers who encounter any problems should keep the tickets issued by the taxi kiosks as evidence for filing complaints to officials. Complaints can be filed by calling 02-132-9199 at any time of day, he said.
Prapon also told reporters that there are 35 complaints about taxis at Suvarnabhumi Airport on average per month, which amounts to 0.01 per cent of all rides.
"Nevertheless, if the airport authorities investigate these complaints and discover that the drivers are guilty, we punish every one of them strictly without any exception," Prapon said. "Therefore, the airport would like to ask everyone to file a complaint if they ever see a taxi driver behaving inappropriately, such as refusing to use meters, being rude, or refusing to take passengers."
Teerapong Rodprasert, director of the Department of Land Transport, said Chaiyan, the taxi driver, confessed to the allegation and was fined 1,000 baht for violating the department's taxi regulation.
"We didn't suspend his driving license because he committed the offence for the first time," Teerapong said. "So we recorded his wrongdoing into the database and sent him to participate in a lecture about service mentality for four hours."
After his complaint was publicized by a number of Thai media outlets, Aki wrote yesterday that he was "very surprised" to see such a reaction. He explained in another Facebook post that he has been regularly visiting Thailand for the last 10 years and even knows how to write in Thai.
"Many Thais sent messages to my inbox … Most of the comments say "I apologize on behalf of my fellow Thai," or "Please don't forget that not all Thais are bad,"" Aki wrote. "These comments, I feel that they are comments from the Thai people with sincere hearts. I am very glad to hear them. I don't want you to misunderstand me. I criticize Thailand, but I don't hate Thailand."