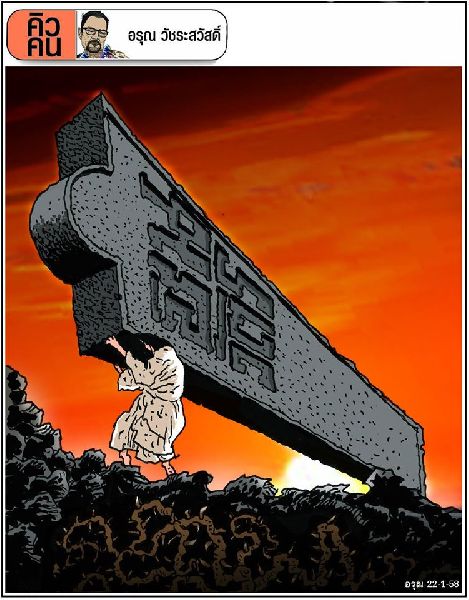 BANGKOK — Matichon newspaper has issued a formal apology for publishing a cartoon that likened former Prime Minister Yingluck Shinawatra to Jesus Christ.
The cartoon, published on 26 January 2015, depicted former PM Yingluck wearing a crown of thorns, parodying the biblical tale where Jesus Christ is forced to wear a crown of thorns by Roman soldiers before his execution.
Drawn by Arun Watcharasawad, the cartoon presumably intended to portray Yingluck's impeachment by the junta-appointed parliament on 23 January as unjust, similar to the persecution of Jesus Christ at the hands of the Romans.
However, the cartoon drew some criticism, leading Matichon's editorial board to publish an apology.
"Matichon had no intention to cause misunderstanding or commit blasphemy," the statement reads. "If the aforementioned cartoon caused any discomfort, the editorial board would like to express its regret and offer an apology."
Matichon and Khaosod English are owned by the same umbrella corporation, the Matichon Group.
Arun, a veteran cartoonist, frequently invokes religious symbols in his cartoons, which mostly satirize contemporary politics. In another cartoon published on 22 January, Arun drew an image of Yingluck carrying a large cross engraved with the word "Shinawatra."
Two years ago he also drew Thida Thawornseth, a top Redshirt leader, wearing a crown of thorns. Thida was at the center of a controversy regarding the election of a new leader for the Redshirt organization the United Front of Democracy Against Dictatorship (UDD).