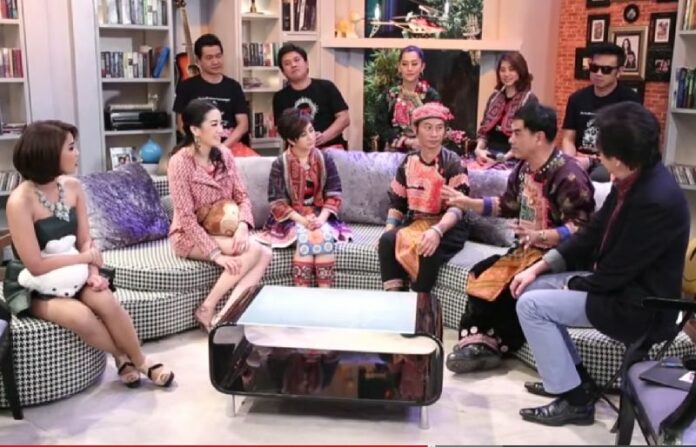 BANGKOK — The Association of Hmong in Thailand has condemned a talk show on a state-owned TV channel that it says aired "racist" comments about the ethnic group.
In a statement released to the press today, the Association said the remarks were made during a talk show called "The Family Gang" on Channel 3 on 31 January 2015. The show featured a children's folk band called "Nok Lae," whose members are not Hmong but dress in traditional Hmong clothing.
During the interview, the founder of the band, Somkiat Sayarat, said he decided to dress the group's members in traditional Hmong garb because he was inspired by the lifestyle of the Hmong people in northern Thailand. He also claimed that the Hmong "never washed their clothes" and "never took baths," prompting one of the hosts to respond with laughter and say, "Ah, I thought the maids were cooking salty fish or something in the studio. It was the smell of the costumes! It stinks up the entire studio!"
The Association of Hmong called such remarks false and"racist."
"They may mislead the general public to perceive the Hmong in an incorrect, humorous manner, and see them as a disgusting, dirty ethnic group," the statement reads.
The statement added that the video of show has been widely circulated and criticized among Hmong communities around the world, especially after a Hmong TV channel in the United States picked up the issue. It is estimated that more than 200,000 Hmong are living in the US, 150,000 in Thailand, and 460,000 in Laos.
"The Association of Hmong and the brothers and sisters of Hmong in Thailand and other countries hereby request Somkiat, the members of Nok Lae band, and the talk show hosts who said those remarks to apologize publicly to the Hmong communities," the statement says. "We also request all relevant groups, both state and private, to take responsibility for the incident … and find measures to prevent such incident from happening again in the future."
According to MThai, a entertainment website, Somkiat apologized for his "reckless" remark and said that he never intended to offend the Hmong. Channel 3 has not yet publicly commented on the issue.
Surapong Kongchantuk, the official in charge of minority rights at the Lawyers Council of Thailand, told Khaosod he is deeply disappointed to see the founder of Nok Lae band spread false stereotypes about the ethnic group that inspired his musical career.
"Nok Lae, a band that reflects the spirit of tribal children, should have understood the ethnic group, but it ends up making fun of them," Surapong said. "Concerning racist remarks toward ethnic groups, people should exercise caution when they speak, because, as they can see, wars in many places around the world happened because of lack of acceptance and understanding about ethnic groups."