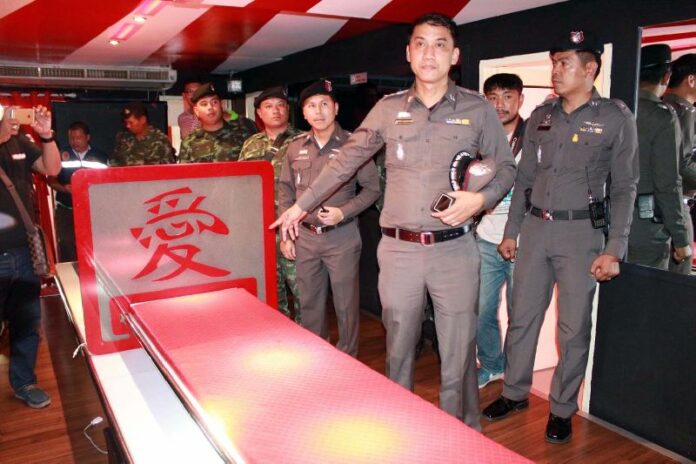 CHONBURI – Police and military officers have raided a restaurant in Pattaya where sushi was reportedly served on the bodies of naked women.
Security officers raided the restaurant, named Tokyo Kids, located on Soi Kor Phai 10 in the popular beach town of Pattaya at around 10 am yesterday.
The raid followed an uproar on social media in response to advertisements for the restaurant that appeared on several Thai webforums and Facebook pages. The ads touted the restaurant's nyotaimori service, a Japanese practice in which sushi is served from the bodies of naked women.

An advertisement for Tokyo Kids's nyotamori service.
During the raid, security officers found a long table that appeared to match the table seen in the restaurant's advertisements. However, no clients or waitresses were at the restaurant when the raid took place.
Apichart Wongsuriya, 38, identified himself as the manager of the restaurant and told police that Toyko Kids is owned by a 60-year-old Australian man named "Jason," who rarely visits. According to Apichart, the restaurant has been in operation since 2011.
The manager admitted that the restaurant offers nyotamori meals to its customers, who are mostly Korean and Chinese tourists. He said the restaurant charges each customer 5,000 baht per session, and pays the women around 2,000 baht for providing the service.
"This morning Jason phoned me and told me not to open the restaurant today," said Apichart, "because he was afraid of a police raid, especially after there was a public uproar."
Police have confiscated CCTV footage and restaurant receipts for further investigation.
Pol. Col. Sukthat Pumpanmuang, commander of Mueang Pattaya Police Station, said the restaurant owner will be charged with operating a restaurant and selling alcohol without a permit. The women providing the nyotaimori service will also be charged with public indecency, he said.
"It has caused foreigners to view Thai women and the image of Pattaya in a damaging way," said Pol.Col. Sukthat. Pattaya is known for its rowdy nightlight and free-wheeling sex industry.
Nyotaimori is reportedly offered in a small number of restaurants in Japan's red-light districts, though the practice has been imported by some high-end restaurants in Western countries in recent years, drawing criticism from women's rights advocates who see the practice as demeaning and humiliating to women.
Supensri Puengkhoksoong, the official in charge of Ministry of Social Development and Human Security's center for gender equality, said the nyotaimori offered at Tokyo Kids restaurant is "inappropriate and damages the image of women."
"It treats women as commercialized gender. The restaurant only thinks about drawing customers without considering principles of morality," Supensri told Khaosod. "As for people who respect the dignity of human beings, they should help boycott the restaurant for trampling on dignity of women."