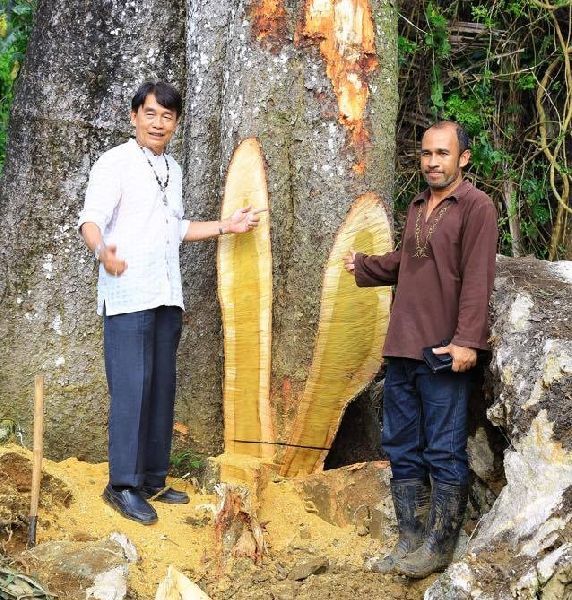 KRABI — Two artists have come under fire for cutting down a 143-old tree in Krabi province for an art installation.
Katsumi Mukai, a Japanese wood sculptor, and Kamol Thassanachalee, a well-known Thai artist, drew heavy criticism after photos of the felled tree in Krabi began circulating on social media.

Katsumi Mukai (L) cutting down a tree in Krabi province. [Photo:Akradej Chakjinda]
"I'm really feeling down hearing that trees were cut for an artist to create artwork," Suchart Sawatsri, another famous Thai artist and writer, said in response to the photos. "I am really disgusted by what he's done."
According to the Mayor of Krabi province, the owner of the land where the tree stood gave the artists permission to cut it down for their sculpture exhibition at Krabi's Andaman Art Gallery.

Trees carved for Mukai's sculpture show in Krabi [Photo:Akradej Chakjinda].
Mukai has visited Thailand on many times and was an "Artist-In-Residence" at Khon Kaen University for two months. In 2005 he carved a giant rain tree in Malaysia into a popular outdoor sculpture in George Town called the "Winds of Penang."