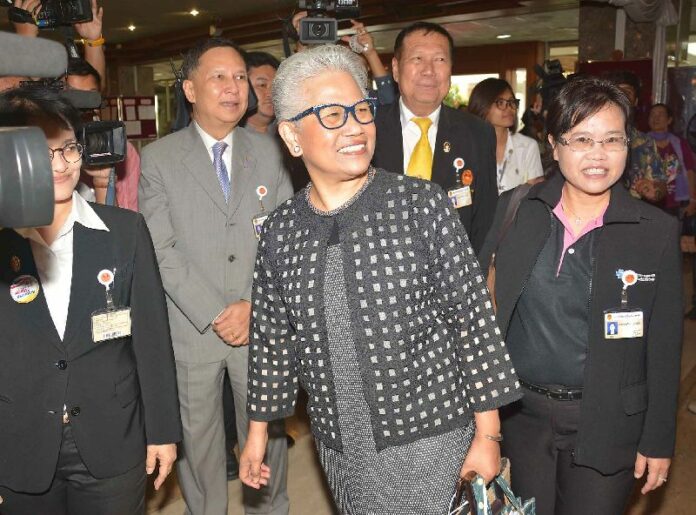 BANGKOK – One of four women appointed to Thailand's Constitutional Drafting Committee (CDC) says she resigned this week because of the committee's lack of commitment to addressing gender imbalances in politics.
Thicha na Nakhon, who stepped down from the charter drafting body on 1 March, said at a press conference today that she "lost her faith" in the committee after her calls for establishing a quota of female representatives in national and local parliaments were repeatedly shot down by other charter drafters.

Thicha na Nakhon before holding a press conference on her resignation from the CDC, 3 March 2015.
The CDC was appointed by Thailand's military junta to write a new constitution following the 22 May 2014 coup d'etat. Four of the committee's original 36 members, including Thicha, are women.
Thicha said she repeatedly advocated for including a provision in the new charter that would require one third of party-list MPs and local councilors be female.
"But many CDC members, who are men, opposed and disagreed with my reasoning," said Thicha, a well-known advocate for women's rights and used to work in state shelters for women and youth. "I insisted to them that it's not about giving privilege to women's rights, and it's not about blocking or belittling men's rights, but it's about aiming to open up the field for women to join the effort to drive society forward to equality."
Even though slightly more than half of voters in Thailand are female, the country's top governmental bodies are consistently dominated by men. As a result, issues related to women's rights are rarely discussed in national political bodies.
The current interim legislature, whose members were handpicked by the all-male junta, has one of those lowest percentages of female representation in recent years. Only 12 out of its nearly-200 members are women, amounting to six percent. The rest are male military officers, policemen, businessmen, and former politicians and bureaucrats.
The percentage of female MPs in the previous parliament, elected in 2011, also only amounted to 15.8 percent. The average global participation rate of women in national-level parliaments is 20 percent.
Speaking to reporters today, Thicha attributed the chronic gender imbalance in Thai politics to cultural forces, and argued that legal mechanisms like quotas are needed to overcome these obstacles.
"Women have been assigned their roles to stay at home for a long time. Therefore, the effort to push these women into public spaces for a balance in society is not something that will happen on its own by nature. There needs to be a change in society, culture, and politics that requires a temporary special measure," Thicha said.
When the majority of CDC members refused to accept her proposal, Thicha said she felt it was time to leave.
"I'm not fighting with anyone," Thicha insisted. "When I meet them, I wai them, greet them as normal."
She also confirmed that CDC chairman Bowornsak Uwanno was not the main factor behind her resignation, as a controversial Matichon news report had suggested.
"I am content with the CDC chairman's perspective, especially about the quota. He has his stance but he was willing to compromise. But a certain group of members won't accept it at all," Thicha said.
Yesterday, CDC chairman Bowornsak told reporters that the committee was still debating Thicha's proposal.
"The proposal about establishing a quota of women in political office is still pending in the CDC," Bowornsak said at a press conference. "Everything is still possible, but it has to depend on the majority of the voices in the CDC."
He also suggested that if the measure were implemented, Thailand would be more progressive than many democratic nations.
"It would be a progress that goes beyond the nations that teach us democracy," he said, noting that the US and Japanese constitutions do not include electoral quota systems. "If we implement it, it would be world-class progress. But it depends on the opinion of majority of the CDC. We have to stick to the majority."
For comments, or corrections to this article please contact:[email protected]
You can also find Khaosod English on Twitter and Facebook
http://twitter.com/KhaosodEnglish
http://www.facebook.com/KhaosodEnglish