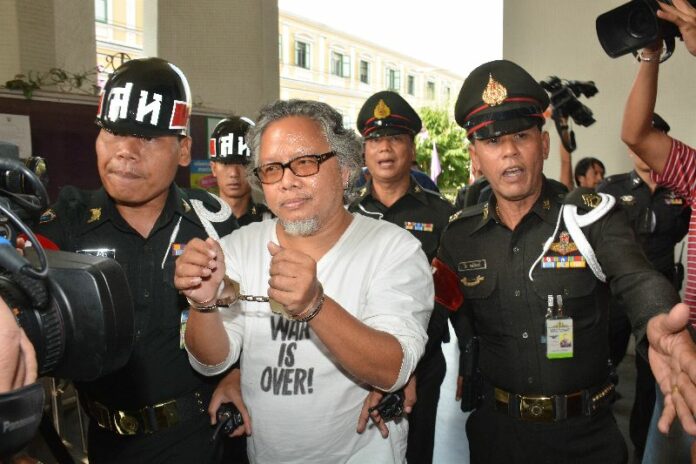 BANGKOK — Police preemptively arrested an anti-coup activist at his home last night, hours before he planned to set out on a protest march to a martial court in Bangkok.
A group of police officers arrested Pansak Srithep shortly after midnight and brought him to Chanasongkram Police Station in Bangkok for interrogation.

Pansak Srithep arriving at martial court in Bangkok, 26 March 2015.
After 40 minutes of questioning, the commander of the Bangkok Metropolitan Police, Pol.Maj.Gen.Sriwarah Rangsipramkul, emerged and told reporters that "the arrest was in accordance with an existing arrest warrant" from the weekend that Pansak embarked on his first one-man protest march from his home to a police station in Bangkok.
Although police officers arrested Pansak an hour after he began the first walk on 14 March, they released him without charges and allowed him to continue the next day.
However, a martial court then approved an arrest warrant on Pansak for "inciting unrest," defying the junta's ban on protests, and violating the Computer Crime Act.
Pol.Maj.Gen. Sriwarah did not explain why officers waited until last night to arrest Pansak.
"We followed the legal procedure," the police commander said.
Pansak was held at the police station overnight until he was transferred this morning to martial court, where he is facing trial for the charges pressed against him in connection with his protest walk on 14-15 March.
Since seizing power from an elected government on 22 May 2014, Thailand's military junta has banned all political activities and tried violators in martial court, where military officers serve as judges and appeals are not permitted.
Although prosecutors contested Pansak's bail release, the military court agreed to free him on a bail of 500,000 baht. His lawyer, Arnon Nampha, said a majority of the bond money was donated.

An army officer holding the leaflets scattered by student activists near the martial court, 26 March 2015.
Security officers sealed off roads around the courthouse as Pansak arrived in a police van. Prevented from gathering outside the court, several student activists flashed anti-coup salutes near the barricade and threw flyers that said "Civilians must no go to martial court." Security officers did not intervene with the small protest.
Pansak is also facing a separate trial in martial court for the pro-election rally he and his anti-coup group, Resistant Citizens, organized in Bangkok on 14 February.
Pansak became an prominent progressive activist after his 17-year-old son Samapan Srithep was shot dead during the military crackdown on Redshirt protesters in May 2010. Witnesses say they saw soldiers firing at Samapan and a group of Redshirt protesters in Ratchaprarop district, though an official court inquest on Samapan's death has not been completed.
Related coverage:
Anti-Coup Marcher Allowed to Walk