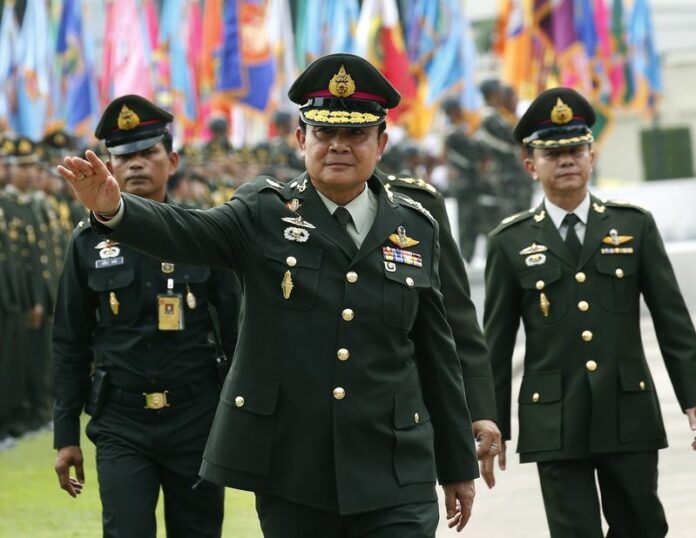 BANGKOK (DPA) — Thailand's military government lifted martial law in a televised address to the nation Wednesday night, after receiving a royal endorsement to do so.
The junta said that it had received approval from King Bhumibol Adulyadej to lift martial law, which it has used to govern Thailand since taking power in a coup in May.
The junta also announced that Prime Minister Prayuth Chan-ocha had used Section 44 of the current interim constitution to put in place several acts which would be effective immediately.
The new executive orders continue several martial law clauses including the detention of dissidents for up to seven days without charge, the trial of civilians in military courts, the banning of political gatherings and the right to ban news and media which threaten national security.
Prayuth also used his executive orders under section 44 to empower military soldiers to act as law enforcement officials in issues concerning national security.
Rights groups and some political leaders have expressed criticism over the use of Section 44.
"General Prayuth's activation of constitution section 44 will mark Thailand's deepening descent into dictatorship," said Brad Adams, Human Rights Watch's Asia director.
He said Section 44 was a "constitutional provision that effectively provides unlimited and unaccountable powers."
Locally the use of Section 44 has also been met with resistance.
"To revoke martial law and exercise Section 44 instead is risky because the article gives the PM absolute authority," National Human Rights Commissioner Nirat Pitakwatchara said.
"During a time that the country is trying to promote national reform and solve inequality issues, I doubt that it's suitable to use Section 44 or martial law."
The junta for its part has denied that it would use the controversial clause dictatorially.
Deputy Prime Minister Prawit Wongsuwan said last week the section would only be used against people who were conspiring against the country and that "good people need not worry."
The current military government came to power after a military coup last May.
Since assuming power, the armed forces have cracked down on dissent and censored political opponents, citing the need for national stability.
(Reporting by Cod Satrusayang, dpa)