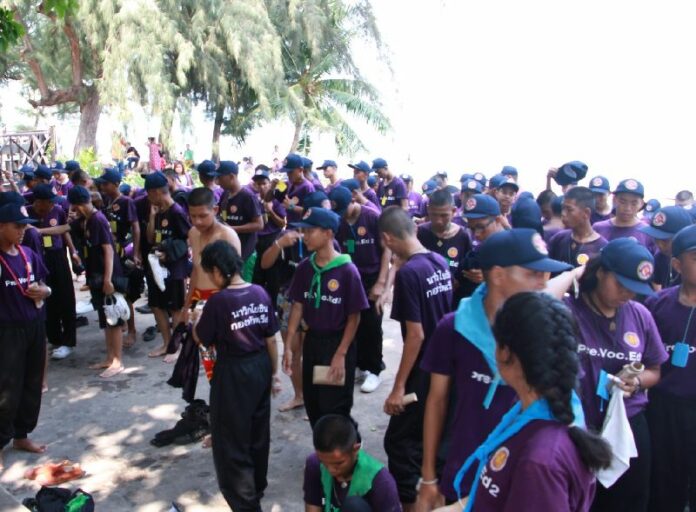 CHONBURI — More than 400 incoming students at vocational schools in Chonburi province are attending a 3-week orientation camp organized by the Royal Thai Navy to reduce problems of gang rivalry.
The activities are being held on a Navy base in Sattahip district and are jointly overseen by the Vocational Education Commission (VEC), the Royal Thai Navy, and the Royal Thai Marine Corps, said Krittithorn Sukkamol, director of VEC's office in Chonburi.

Vocational school students at an 0rientation camp on a Navy base in Chonburi [Photo: VEC].
According to Krittithorn, the 466 students, most of whom are entering the tenth grade, will be staying at the camp from 20 April to 9 May to receive training and lectures from Navy drill sergeants to instill discipline, morality, ethics, and a sense of unity.
Many vocational schools and polytechnic colleges in Thailand are known for long-running rivalries that can lead to gang violence, sometimes resulting in injuries and deaths.
"I am confident that this program can [adjust] their behavior and solve problem of student fights," Krittithorn said today. "Even though we cannot prevent it 100 percent, but after everyone has gone through lessons in the program and training by the Navy drill instructors, they will be disciplined and have restraint."
She added, "Furthermore, since children from many schools are staying in the same camp, getting to know each other, and forming love and bonds with fellow vocational students of the same age, many problems that happened in the past will be gone."
The course also offers classes on developing career skills, Krittithorn said.
Parents and families of camp attendees were allowed to visit the students and picnic with them for several hours today.
In September 2014, junta chairman and Prime Minister Prayuth Chan-ocha said one of the priorities of his military government is to end student gang fights. Gen. Prayuth warned that any college that fails to curb gang violence could be shut down by the authorities.
Related coverage:
Teen Gangs Trade Gunshots, Burn Vehicles in Ranong Town Center
BKK Students Killed In Suspected Gang Assassination