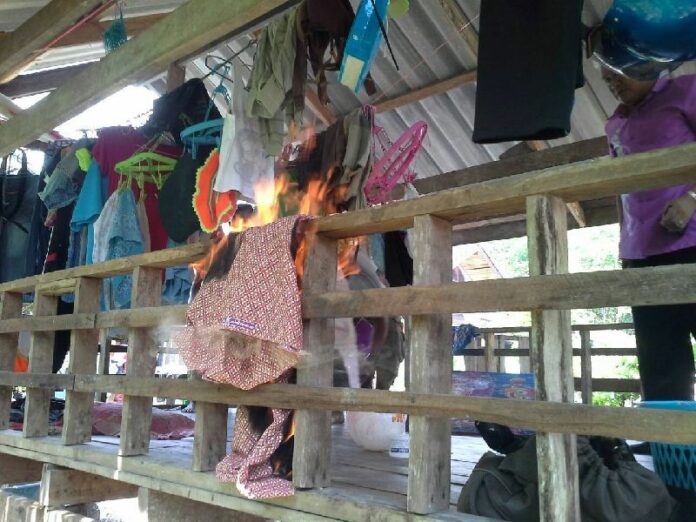 PHATTHALUNG — Video surveillance has revealed that humans, not supernatural entities, are responsible for more than 200 fires lit inside a house in southern Thailand over the past few weeks.
Lom Sakwan, 63, told the media in mid-April that inexplicable fires kept erupting in his house in Phatthalung province. According to Lom, the flames would abruptly crop up in his kitchen, bedroom, and living room when no one was watching, causing significant distress to his family.
Lom said he counted more than 200 incidents over the course of several weeks.
His story attracted attention from local communities, national media, and followers of superstitious beliefs. Yesterday, a group of "hermits" arrived at Lom's house and informed him that a child ghost has been haunting his family and setting the fires. Lom organized a ceremony to dispel evil spirits on 26 April, in which at least five monks known for their necromancy skills were invited, yet five more blazes were reported later that day.
Meanwhile, scientists interviewed by the media have insisted that the fires are caused by humans. Yesterday, Weerachai Phutdhawong, a professor on forensic science at Kasetsart University, suggested cameras be set up to get to the bottom of the mystery.
"Setting up cameras at the scene will help bring answers about the cause of the fire. Volunteers can also observe behavior of each family member in the house," Weerachai said. "I believe that setting up cameras there would not show any ghost coming to set the fire."
Hours later, Channel 8 news station revealed that reporters placed a hidden video camera in Lom's living room while they were talking to Lom and his family.
In footage captured by the camera, a woman is seen quietly setting a fire to a piece of cloth while no one is watching her. She then walks away and alerts other people in the house about the flame. The video did not identify the woman but it is presumed she is one of Lom's relatives.
Pol.Maj.Gen. Damrat Wiriyakul, commander of Phatthalung police, told Thai Rath news site that there is still debate about the source of the fires.
"Villagers in the area are still convinced that it is caused by supernatural [beings], which contradicts with opinion of experts," Pol.Maj.Gen. Damrat was quoted as saying.