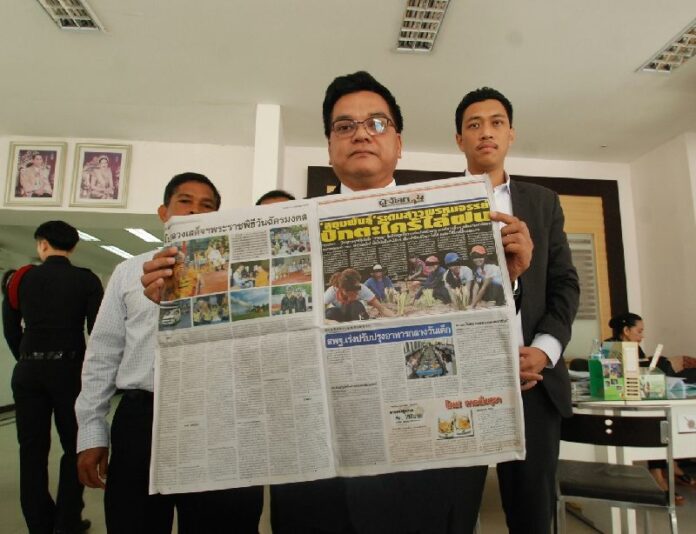 BANGKOK — The Governor of Bangkok filed a libel charge over a satirical article in a prominent newspaper that lampooned his perceived failure to stop floods in the capital city.
Sukhumbhand Paribatra assigned two assistants to file the charge against the paper, ASTV Manager, on his behalf at Chanasongkram Police Station today.

Assistants of Bangkok Governor Sukhumbhand Paribatra filed a libel charge on the governor's behalf over a satirical article in ASTV Manager, 7 May 2015.
The piece was published on 6 May in ASTV Manager's "Pujadkuan" section, which leads with a disclaimer explaining that all articles in published in the section are fictional.
The article joked that Sukhumbhand had mobilized all virgin women in Bangkok plant lemongrass – a Thai superstition said to ward off rain storms.
"Anything that will make the public feel relieved, the Governor is willing to do," the article quoted a fictitious "source" as saying.
Sukhumbhand has been criticized for failing to adequately prepare for regular floods in Bangkok, despite promises during his re-election campaign in 2013. After a particularly severe flood on 26 March, Sukhumbhand suggested that people who want Bangkok to be free of floods should simply "go live on a mountaintop," setting off a deluge of criticism on social media and in the press.
The public outcry prompted junta chairman Gen. Prayuth Chan-ocha to call on Sukhumbhand to apologize to the people. The governor eventually explained in another press conference that he was only "joking." In reference to the controversy, the ASTV Manager article on 6 May concluded by stating that Sukhumbhand urged Bangkokians to prepare to live on the mountain in the event that the lemongrass ceremony failed.
Wasan Meewong, one of Sukhumbhand's assistants, told reporters today that the article violated Thailand's libel laws because it presented false information that could "damage" the Governor's reputation.
"This charge filing is the first time in six years that the Bangkok Governor has taken legal action against media agencies that try to present false news and cause hatred toward the Governor," Wasan said. "In order to protect Sukhumbhand's reputation, and prevent any presentation of news like this in the future, I would like to ask all media to work ethically, and only report news based on facts."
Police said they will investigate the matter.
Known for its royalist and conservative editorials, ASTV Manager frequently mocks Redshirt activists and Pheu Thai politicians in its satire section, often with crude language.
On 1 July 2014, the newspaper published a "parody" piece describing in graphic detail about how a transgender anti-monarchy activist would be gang raped by male prisoners after the junta finally tracked her down. The online version of the article was later pulled.
Last March, the section "quoted" a progressive actress, Intira Charoenpura, as urging Redshirts to start a separatist campaign in northern Thailand. The piece became popular among pro-monarchy Thais, many of whom failed to realize that it was satire.