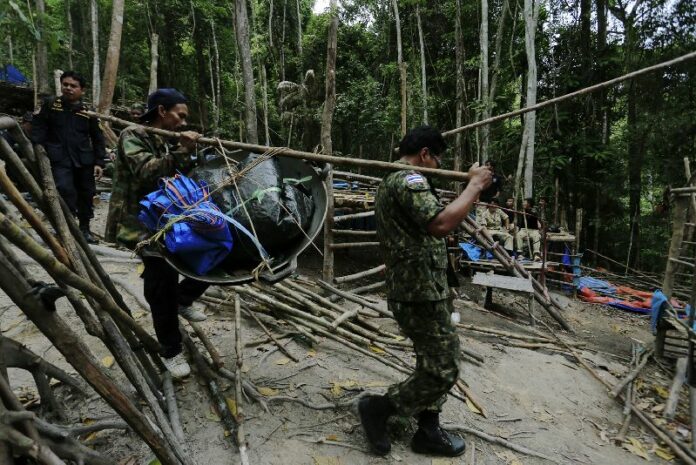 BANGKOK — Thailand's military leader said the government will not build permanent refugee centers for Rohingyas who have fled ethnic persecution in Myanmar.
"These people entered illegally," said junta chairman and Prime Minister Prayuth Chan-ocha, referring to the nearly 300 migrants from Myanmar and Bangladesh that police have found in the jungles of southern Thailand this week. The groups were abandoned by smugglers who presumably caught wind of the crackdown Thai authorities ordered on human traffickers in the beginning of the month.
"We need a place where we can detain them for legal prosecution, because there's only limited space now," Gen. Prayuth said, but clarified that "this will not be a permanent refugee center for ten or twenty years."
The junta chairman stressed that setting up refugee centers would place a great financial strain on Thailand.
"We would have to use budget from Thai taxpayers to take care of them, would we not?" he asked reporters.
When a reporter asked whether Thailand could request financial assistance from the United Nations to build refugee centers, Gen. Prayuth replied, "Yes, I can. But will they give me the money? Are you the UN? I can ask them, but will they give it to me? Is it 100 percent [guaranteed]? Can I build the centers first and ask them later? Can you promise me on their behalf? If I cannot get the money, can I ask the money from your office? You act like you are the master of the world."
The crackdown in Thailand, a common pit stop for traffickers seeking to smuggle migrants into Malaysia, has spurred some boat captains to abandon their human cargo at sea. Human rights workers estimate that at least 8,000 migrants are currently stranded off shore, with no country in the region willing to take the desperate passengers in.
Many of the migrants have been identified as Rohingya Muslims, a persecuted minority from western Myanmar. The others hail from impoverished Bangladesh, where an estimated 300,000 Rohingyas live in refugee camps.
The United Nations' refugee agency estimates that 25,000 people fled Myanmar and Bangladesh on boats in the first quarter of 2015, a number twice as high as the same period last year.
A spokesperson for Thailand's military government said the country's policy is provide food and fuel to ships headed for other countries, but that any migrants who arrive on Thai shores will be prosecuted with illegal entry.
"We have given the Navy clear policy that if the refugees have an intention to land on the Thai coast, they are welcomed to do so, and we will give them humanitarian assistance, but we will treat them in accordance with laws about illegal entry into the country," said Maj.Gen. Sansern Kaewkamnerd.
Meanwhile, Muslim-majority Indonesia and Malaysia – the two most common destinations for Rohingya refugees – have both pushed away boats of migrants in recent days.
Thailand has called for an international summit to address the mounting humanitarian crisis on 29 May, but the UN and other human rights agencies say action must be taken sooner, before the Andaman sea becomes a floating cemetery.
"The Thai, Malaysian, and Indonesian navies should stop playing a three-way game of human ping pong, and instead should work together to rescue all those on these ill-fated boats," said Phil Robertson, Human Rights Watch's Asia Director. "The world will judge these governments by how they treat these most vulnerable men, women, and children."
Speaking to reporters today, Gen. Prayuth suggested that sensitive issues, such as the state-sanctioned discrimination that has driven tens of thousands of Rohingya to flee Myanmar, may be off the table during the 29 May summit.
"Some things can be said, but some other things should not be said," Gen. Prayuth said obliquely. "Our country has enough problems already. If we affect other people too much, we won't be able to ask for cooperation from them."
He continued, "If we say these things out loud – what about the other countries that keep silent? About human trafficking, Rohingya, fishing. Do they speak about it? They don't speak about it at all. But we keep fanning the issue. In the end, we will be the center of all the evil things in ASEAN."