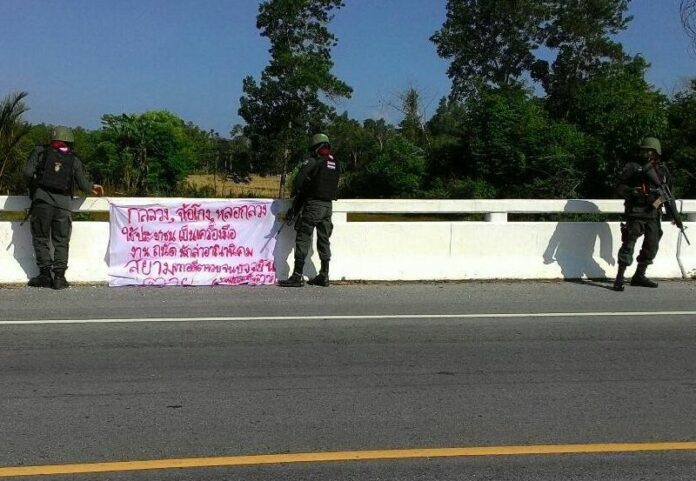 YALA — Eight roadside banners which appeared to be written by local separatists were found in the southern border region of Thailand today, following a three-day bombing spate that wounded more than 20 people.
Five of the banners were hung on the side of roads in Yala province, and three more were found in the neighboring province of Narathiwat.

Soldiers remove a separatist banner in Yala province on 18 May 2015.
The text on the banners read: "Trickery, fraud, lies, using people as their tools: [these are the] professions of the Siamese colonizers from the past to the present. Die! If you remove [this banner], you die!"
Police believe the banners were hung by local Muslim militants who are seeking to revive the Islamic state of Pattani, which was annexed by Thailand – then known as Siam – in the early 20th century.
A bomb exploded while security officers were dismantling one of the banners in Yala's Bannang Sata district, though no one was injured by the blast. No other bombs were found near the other banners.
The banners were found several days after nearly 40 bombsrocked Yala's town center over the weekend, injuring at least 22 people.
The bloody separatist campaign as claimed the lives of more than 6,200 people, mostly civilians, since early 2004.
Experts say the insurgency is mostly fueled by ethnic and religious differences. While the vast majority of Thailand is Buddhist, the southern provinces of Yala, Narathiwat, and Pattani are mostly populated by Muslims who speak a Malay dialect.
Although most of the casualties have died in attacks staged by insurgent groups, Thai authorities have also been criticized for using excessive violence and violating human rights in their effort to combat the movement.