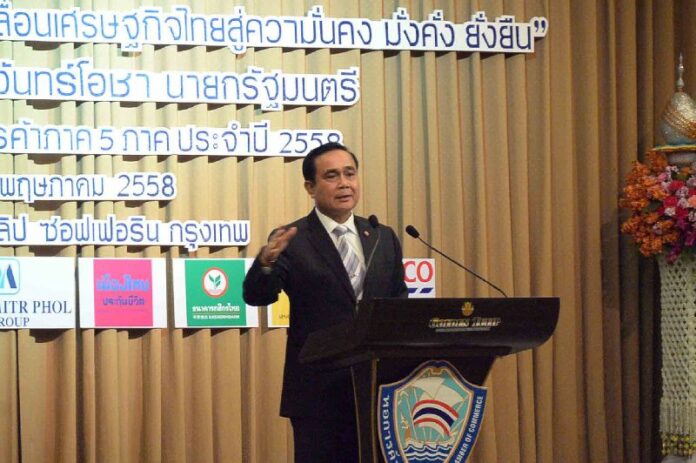 BANGKOK – Thai junta chairman Gen. Prayuth Chan-ocha delivered a lengthy speech to a group of investors over the weekend, offering his views on an alleged plot to overthrow the monarchy, the student protests that marked the one-year anniversary of the coup on Friday, and a range of other political topics.
Below are notable excerpts from the two-hour speech, which he gave at an event organized by the Thai Chamber of Commerce at the Golden Tulip Hotel in Bangkok on Saturday.
On the monarchy:
"Thai people must love each other, but still some evil people like to distort information about the monarchy. And everyone believes it … People who don't know and don't understand fall for these lies. People who insult the monarchy right now may not be great in number, but they belong to a movement of people who want power and seek personal gain. There are only two things that they want to control, but they cannot do so: the military and the monarchy. If they can destroy these two things, they will definitely be able take over Thailand. It will be done by someone that all of you know, but I don't want to say out loud who this person is. Because if I say it, that person may counter me, and I will get angry, and I will be forced to exercise my power. I don't want to exercise my power."
[Read related article: Thaksin: 2014 Coup Makers Helped by Traditional Elites]
On intelligence of Thai people:
"These days, there are two groups of Thai people: [those who use] facts, and [those who use] feelings. A majority of [Thai people] use feelings. They use their hearts when they love someone or hate someone, and use very little of their brains. Very few people think thoroughly about right and wrong. I am not insulting you. The first thing we have to fix today is to encourage knowledge, be conscience in living our lives. If Thai people still use feelings to guide their lives like this, no matter what, we won't be able to move on together. Even I have to try to be conscious to refrain from getting angry, which sometimes I am able to do, and sometimes I am not. But if anyone else was standing here in my position, they would understand that it takes a lot of patience."
On the anti-coup student protests on 22 May 2015:
"When I order things, I do not only use power and power and power, because if you use power too much, it will be gone quickly. On some days, I cannot use my power. For example, the students came out [to protest] the other day. I could not use my power. Because they [the students] are our future. I try to understand that they have a fiery spirit. They have a good ideology. But it's not their time yet. I have forgiven them so many times. Their parents are also worried for them. If they want their children to graduate, they have to teach them why we [the junta] are here, what we are doing."
[Read related article: Thai Police Forcefully Break Up Student Anti-Coup Protest]
On democracy:
"Can the international community accept us? We are being pressured to turn our country into a democracy. I have explained to them that today we are even more democratic than they are. I never interfere with other countries. I only explain reasons for them to listen to. I can't talk about the bad things of my own country to them, I'm embarrassed. Many countries have started to understand. Some countries ask me, why isn't there an election yet? So I said, if an election came with shootings and bomb attacks, would you have that kind of election? They look at me, so confused, and they ask me, that kind of thing still happens in your country?"
On the military coup he staged on 22 May 2014:
"If I were not there on that day, there may not be a Thailand today, because wars were breaking out all over the country."