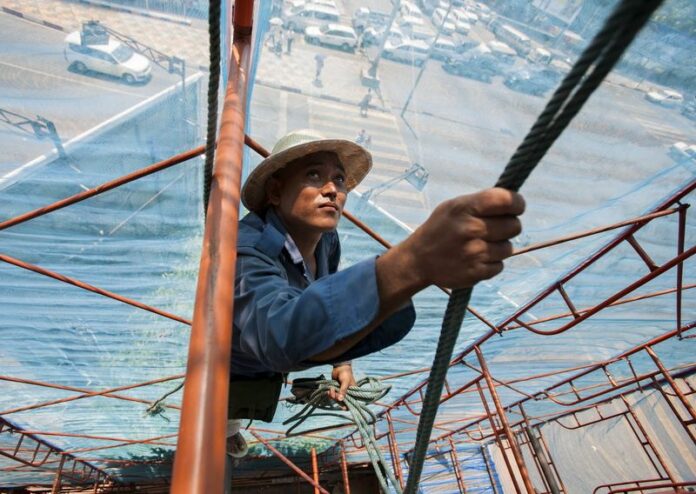 BANGKOK (DPA) — When Myanmar began its political reforms in 2011, firms around the world salivated at the prospect of investing in the resource-rich and largely undeveloped country.
But four years later there are signs that the rush to invest is being slowed by dragging market reforms and the country's turbulent politics.

Myanmar workers carry baskets loaded with gravel on their shoulders as they pile up those near a jetty of Yangon River, Yangon, Myanmar, 27 January 2015. EPA/LYNN BO BO
Before 2011, Myanmar's only big international investor was China. The investments made by China were mainly concentrated in the energy and infrastructure sectors.
When the country opened up, the market was ripe for liberalization, for example in key sectors including telecommunications and banking.
Data from the World Bank showed that direct foreign investment was 900 million US dollars in 2010, and that figure more than doubled to 2.5 billion dollars in 2011.
Companies appeared willing to put aside the risks of dealing with Myanmar's uncertain political situation to secure the necessary contracts.
"The country has high potential for rapid growth and development given its rich natural resources, abundant labour force and strategic location," a country report by the Asian Development Bank in 2012 noted.
Myanmar was so confident of foreign investment that it has engaged in several mega projects and economic zones including the Dawei deep sea port, the largest of its kind in South-East Asia.
Win Win Tint, the managing director of Myanmar's largest retailer City Mart Holdings, told dpa that the situation had improved massively since 2011, noting that before the reforms the government rarely touched on business and economic policy.
"Now, the government is listening to us," she said. The administration "has engaged with foreign countries so there is more interest from foreign investors."
But recently the rush of firms competing to invest in Myanmar has slowed to a steady stream.
A forecast by the International Monetary Fund released in February stated that "the growth outlook of the Myanmar economy remains favorable over the medium term, but downside risks for the near term have increased."
"The bureaucratic apparatus is like an old machine," said Win Win Tint. "It hasn't moved for 15 years and need to be greased continuously to move."
Many consultants and analysts also lowered their economic outlook for the country due to the uncertainty surrounding elections scheduled for the end of the year.
Most foreign investors are "waiting for the results of the November elections, after which the nature of Myanmar's next government will become clearer," said Sean Turnell, a Myanmar economics expert and professor in economics at Macquarie University.
Turnell argues that in order for continued economic growth there needs to be "greater stability and predictability in policy-making."
That uncertainty may have filtered down to government decision-making on major projects like the Dawei deep sea port.
The 50-billion-dollar project was once destined to cover over 200 square kilometres and hold more tons of cargo than the ports of Los Angeles and New York combined.
Now the signing agreement between Myanmar, Thailand and private developer Italian-Thai Development has been constantly postponed.
"We are ready to sign it, the Thai government is ready to sign it, the Myanmar government however are delaying the issue," said Pravee Kamolkanchana, Italian-Thai Development's marketing manager.
"We are dealing with an unprecedented situation," said Nyantha Maw Lin, the Myanmar director of corporate advisory firm Vriens and Partners.
According to Nyantha, various government agencies are putting in place plans to ensure stability over the transition of government including putting installing permanent secretaries to oversee policy.
"Myanmar has never had such a transition before so there are going to be hiccups," he said.
Regardless of who wins the election, business leaders and analysts agree that Myanmar needs to do more to reassure foreign investors over the next transition of power.
(Reporting by Cod Satrusayang)