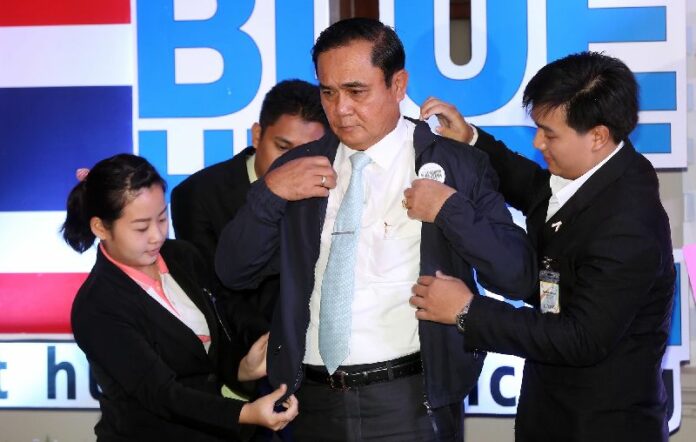 BANGKOK — The ultra-conservative activist monk Buddha Issara is gathering signatures for a proposal that could keep junta chairman Prayuth Chan-ocha in power for several more years until the junta's national reform program is complete.
Phra Buddha Issara, who helped lead the street protests that paved the way for Gen. Prayuth to seize power in May 2014, said he would collect 50,000 signatures in support of a referendum that would determine whether to postpone the next election – scheduled for September 2016 at the earliest – until the junta's reform process is complete.
Gen. Prayuth and the ruling junta, known as National Council for Peace and Order (NCPO), would remain in power during that time. Some members of the junta-appointed National Reform Council have expressed support for a similar measure that would give Gen. Prayuth two more years to complete the reform process.
"I support [the idea] of reforms before an election," Buddha Issara said, citing a slogan of the protest movement he helped lead in 2013 – 2014, which aimed to topple the government of then-Prime Minister Yingluck Shinawatra.
"I do not believe the NCPO will hold on to power forever," the monk told reporters. "Personally, I have seen the dedication of this government. They are dedicated to performing their duties and restoring peace to the country before a new election is held, because if an election takes place when the country has not returned to normalcy, I believe elections will be problematic again."
Commenting on the proposal today, Gen. Prayuth said he would accept the extension if the Thai people approve it in a referendum.
"If it is the voice of the people, how can I object to that?" he said.
Buddha Issara was the leader of a "hardcore" faction of the anti-government protests that paralyzed parts of Bangkok for six months in an effort replace Yingluck's administration with an unelected "People's Council" to implement unspecified national reforms.
Bowing to pressure from the protesters, which mobilized tens of thousands of protesters on the streets, Yingluck dissolved the parliament in December 2013 and called a snap election for February 2014. However, protest leaders demanded that reforms be enacted before an election, and sent demonstrators to block polling stations in parts Bangkok and 14 southern provinces.
Buddha Issara personally led a group of militants – some of whom were armed – to besiege a district office in northern Bangkok to prevent the distribution of ballots and other election equipment. A gun fight between the protesters and pro-Yingluck demonstrators left a 72-year-old bystander mortally wounded.
The Constitutional Court later voided the 2 February election on the grounds that voting did not occur throughout the Kingdom on the same day. On 22 May 2014, the military intervened and seized power, ostensibly to prevent the crisis from spiraling out of control.
For comments, or corrections to this article please contact: [email protected]
You can also find Khaosod English on Twitter and Facebook
http://twitter.com/KhaosodEnglish
http://www.facebook.com/KhaosodEnglish