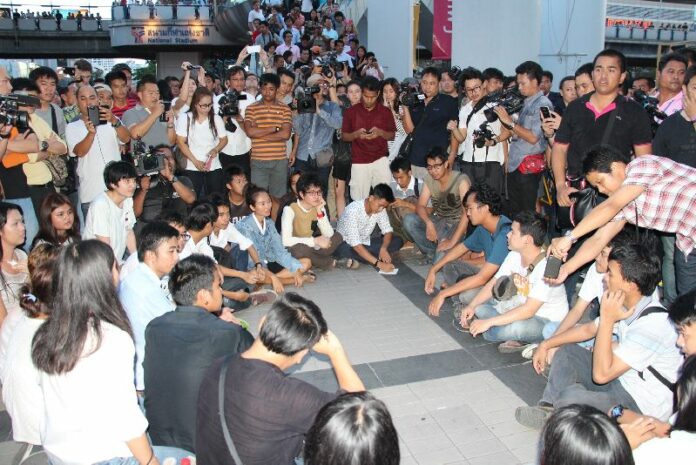 BANGKOK — A television production company has forced four employees to resign for harboring "political attitudes and agendas" that did not correspond with the network's policies.
In a statement provided to Matichon, Dreamteam Network confirmed that the four employees were asked to leave because they joined a pro-democracy rally on the one-year anniversary of the coup on 22 May 2015.
"We do not want our staff to commit any action that may violate peace and order of the country, which may also affect the company," said Dreamteam Network, which produces television shows and documentaries for a number of stations, including Matichon TV, which belongs to the same company that owns Khaosod English.
"The staff who were dismissed joined the activities on 22 May," the statement said. "Their actions violated the company's policy, so we asked them to resign."
The 22 May 2015 rally was organized by student activists in downtown Bangkok to protest the military junta that seized power one year earlier. Police forcefully broke up the demonstration and arrested 33 people.
According to Dreamteam's statement, the four former employees have been financially compensated in accordance with national labor regulations.
The company also denied having "any attitude that leans toward or favors any political side. We give [the staff] freedom to think differently, we do not restrict opinions of the staff, as long as the staff do not commit any action that potentially affects the laws and reputation of the company."
Political activities and public protests have been banned in Thailand for the past year by the junta that seized power from a democratically-elected government on 22 May 2014. Violators of the ban, including four students who organized last month's anniversary demonstration, have been sent to stand trial in martial court, where they face up to one year in prison.
One of the four ex-employees, Chumaporn Taengkliang, told Prachatai news that she and two other Dreamteam staff attended the rally but were not detained, while the fourth, Anucha Rungmorakot, was arrested and released with other protesters on the following day.
She added that her bosses had previously warned that the company was unhappy with the group's involvement in anti-coup activist networks.
The employment termination letter Chumaporn received, which she provided to Prachatai, said the company had concluded that her political agenda "may cause disputes or various problems that may affect reputation and credibility of the company."
"Therefore, the company can no longer trust you to continue working with the company, and deems it appropriate to terminate employment with you," the letter said.
Gen. Prayuth Chan-ocha, who is serving as both junta chairman and Prime Minister, reminded the public in a speech yesterday that protests will not be tolerated under his rule.
"Have you forgotten how this government came to power? And how much power we have?" he asked. "Is it because I have been too kind? Is that why there have been demands to give back freedom?"
He added, "I am not democracy. We are walking toward democracy. Don't mix them up together. They are totally different issues."