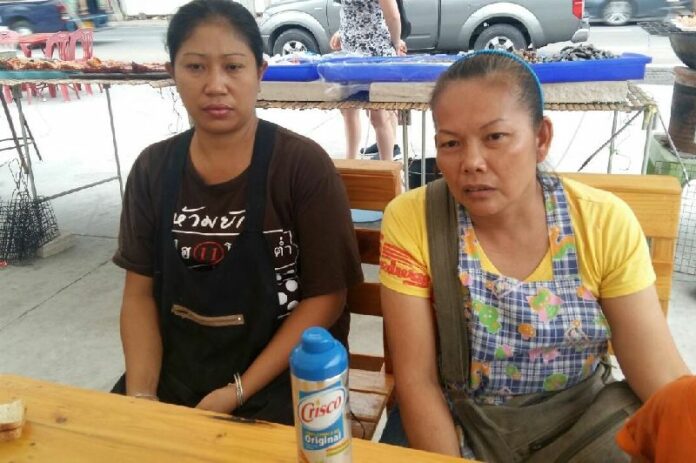 CHONBURI — A restaurant owner in the resort town of Pattaya has refuted a video shared on social media that accused her of spraying seafood with pesticide.
The video, which shows a woman spraying seafood with a can whose label cannot be seen, surfaced online on 13 June with the caption: "This seafood restaurant sprays Baygon [a brand of DDT product] to keep the flies away! That is seafood. It needs cold ice to keep it fresh, but this restaurant bathes it in formalin and sprays it with Baygon."
The clip went viral over the weekend, with many commentators calling for food safety authorities in Pattaya to inspect the restaurant.

Screenshot from the vidoe of Sompong spraying seafood in Pattaya.
Sompong Yaha, 44, identified herself to reporters as the vendor seen in the video and said she was spraying the food with Crisco, a popular brand of vegetable oil-based cooking spray.
"I use it to get rid of the smell of seafood and to keep flies from touching the food," said Sompong, who owns the restaurant Paul Thai Food on Pattaya Second Road. "This cooking oil spray is very well known and commonly used by seafood vendors. It is approved by the FDA [Thai Food and Drug Agency]. It can be bought at any shopping mall and supermarket."
She added, "I'd like to ask those who filmed the video and the people who watched it: if you have a question, you can ask me straightaway. I am willing to explain everything. Filming the video in secret and publishing it in a damaging way without knowing the truth has caused much trouble for me and other seafood vendors … I'd like you to think things thorough before posting anything [on social media]."
As of the time of this writing, the video has been deleted.
The use of pesticides and other chemicals on some street food in Thailand has led authorities to launch occasional crackdowns on the practice.
In December 2014, Narong Sahametapat, Permanent Secretary of the Department of Public Health, announced that a random inspection of five markets in Nakhon Sawan province found that a quarter of the food inspected contained formaldehyde.
Narong said some food vendors use the chemical, which is dangerous to consume, to prolong the freshness of their food.
The Department announced in 2011 that it collected 140,000 food samples from markets and stalls in Thailand and discovered that 4 percent of the samples were contaminated with pesticides and other hazardous substances.
The Department of Public Health has advised the public to wash all fresh produce with running water to ensure that the food is not tainted with any preservatives. The penalty for adding hazardous chemicals to food is two years in prison.