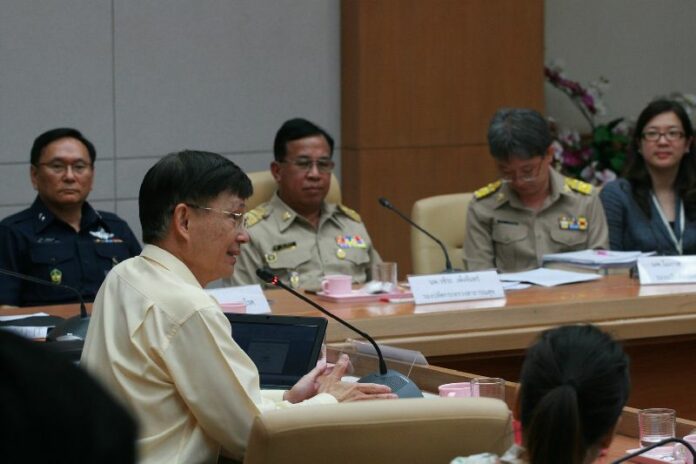 BANGKOK — Thai public health officials have reprimanded two private hospitals for refusing to accept patients who were suspected of having Middle East Respiratory Syndrome (MERS).
According to Boonrueng Trairuengworarat, director of Thailand's Department of Health Service Support, staff at the two private hospitals turned away patients from Middle Eastern countries because they were afraid they might be infected with MERS coronavirus. Boonrueng did not identify the two hospitals by name.
"In the past week, there have been cases of staff at the two private hospitals who have refused to admit patients as soon as they realized that they came from risk-countries. They then called taxis to take those patients to [state-owned] Bamrasnaradura Infectious Disease Institute instead," Boonrueng told reporters yesterday.
The director said the practice violates both medical ethics and the laws like the Disease Control Act, which carries a penalty of 6 months in prison and a 10,000 baht fine for rejecting patients with dangerous communicable diseases.
"Soon there will be a random inspection of private hospitals and clinics to prevent this from happening again," said Boonrueng. "I have already reprimanded the staff in this case."
Thai public health officials are currently working to contain a potential MERS outbreak after the first case – a 75-year-old man from Oman – was detected in the Kingdom on 18 June.
The vast majority of MERS infections have originated in Saudi Arabia, but the coronavirus has killed at least 27 people in South Korea in the past month. There is no specific cure or vaccine for the disease.
Speaking to reporters yesterday, Minister of Public Health Rachata Rachatanawin said he has asked all hospitals to quarantine suspected MERS patients for 14 days, instead of turning them away. He told reporters that the Ministry of Public Health will cover the costs of the quarantine procedures.
Rachata stressed that Thailand still has only one confirmed case of MERS infection, and that some of the 176 people who have been quarantined for suspicious symptoms have already been released.
"It won't affect tourism because we won't bar any travel to Thailand," Rachata said. "We also have a health inspection system for people who travel from South Korea and the Middle East, which are considered risk-countries."